Well-considered estate plans make it possible to establish
deeply personal and highly impactful legacies in the UCLA College
By Margaret MacDonald
Creative compassion
---
When alumna Marcia Howard passed away in 2019, no one who knew her was surprised by her final act of generosity to UCLA: a bequest of $2 million.
The gift was split equally between two initiatives. The first, the English department's Author in Residence program, brings eminent writers to campus to teach, introduce students to new perspectives and share their work through lectures and readings. The second is the Laboratory for Environmental Narrative Strategies, or LENS, in the UCLA Institute of the Environment and Sustainability. Through research and collaboration on storytelling, communications and media, LENS faculty and students explore how today's environmental challenges connect to longer histories of imagining the natural world.
A retired insurance broker, Howard considered UCLA her second home — no fewer than 20 campus committees and organizations benefited from her leadership, advocacy and philanthropy during her more than 60 years of engagement. In addition to the humanities, during her lifetime she supported many other units and initiatives on campus.
Howard was particularly passionate about the importance of a humanities education. In 2014, she gave $1 million to establish the Marcia H. Howard Term Chair in Literary Studies in the English department, currently held by Ursula K. Heise, chair of the English department and interim director of LENS.
"The study of humanities is essential to all aspects of life," Howard said at the time. "It teaches us to think, reason, write and explore the meaning of what it is to be human."
A history major, Howard studied in France during her junior year, igniting a lifelong love of travel and European history and literature. After graduating, she worked as an activist in the Deep South during the budding civil rights movement before returning to Los Angeles in 1961. She received the 1998 Alumni Association's University Service Award.
Learn more:
The Laboratory for Environmental Narrative Strategies
Through research and collaboration on storytelling, communications and media, LENS faculty and students explore how today's environmental challenges — which are as much cultural and political as they are scientific and technological — connect to longer histories of imagining the natural world.
Author in Residence
The Author in Residence program brings eminent writers to campus to teach creative writing in genres such as fiction, poetry and screenwriting. Authors-in-residence introduce students to new perspectives and approaches to writing and share their work through public lectures and readings.
Spiritual journeys
---
Eminent UCLA scholar of Buddhist studies Robert E. Buswell Jr. and his wife, Christina Lee Buswell, fulfilled a longstanding dream when they established the first permanent endowed chair in Korean Buddhist studies outside of Korea.
Through a "blended" gift with a portion paid over five years and the balance as a deferred gift from their estate, the couple committed $3.7 million to the UCLA Department of Asian Languages and Cultures. Their commitments created the Chinul Endowed Chair in Korean Buddhist Studies (pending Academic Senate approval) — named for Puril Pojo Chinul (1158-1210), the most influential monk in Korean Buddhist history — as well as the Robert E. and Christina L . Buswell Fellowship in Buddhist Studies in support of graduate students in the department.
Robert Buswell, who recently retired from UCLA after 36 years, holds the Irving and Jean Stone Endowed Chair in Humanities at UCLA and is considered the premier Western scholar on Korean Buddhism and one of the world's top specialists in the meditative traditions of Buddhism. He founded UCLA's Center for Korean Studies in 1993 and Center for Buddhist Studies in 2000, and served as this year's UCLA Humanities commencement speaker.
"Robert's impact on the fields of Buddhist studies and Korean studies has been unparalleled," says David Schaberg, senior dean of the College and dean of humanities. "Not only has he built, here at UCLA, the nation's largest programs in these two areas, he has also trained dozens of scholars now teaching and studying at academic institutions all over the world. I am immensely grateful for his leadership and for his and Christina's extraordinary generosity."
The fellowship gift was augmented by $25,000 by the Humanities Division Centennial Matching Program (made possible by the Kaplan/Panzer Humanities Endowment).
Buswell says that careful estate planning and creative philanthropy can allow faculty, who have devoted their careers to building academic programs as he has done, to ensure their scholarly legacy continues far into the future.
His path to UCLA began with a search for life's meaning that led him to drop out of college in 1972 and serve for seven years as an ordained Buddhist monk in Thailand, Hong Kong and Korea. Drawn to the scholarly study of the Buddhist tradition, he returned to the U.S. and resumed his university education, eventually earning his Ph.D. in Buddhist studies from UC Berkeley in 1985.
Christina Buswell's embrace of Buddhism also arose from her search for answers: Raised a Catholic in Korea, she immigrated to the U.S. at the age of 13, an experience that later led to much reflection about her cultural identity. She earned a B.A. in religious studies from the State University of New York at Stony Brook and an M.A. in Korean studies from Columbia, and went on to become a translator of Korean religious scriptures.
"It was important to both of us that there be at least one U.S. university with a permanent faculty chair specifically devoted to Korean Buddhism," she says. "UCLA is the ideal place since it has played such an important role in developing Korean and Buddhist studies as fields."
"Buddhist studies is one of the department's traditional strengths, but this new chair and graduate fellowship will make us that much stronger," says Seiji Lippit, department chair and professor of Asian Languages & Cultures. "The chair provides a solid faculty presence to support the field and train graduate students, so the two gifts really go hand in hand."
Learn more: Department of Asian Languages & Cultures receives $3.7 million in gift commitments
A better future for all
---
"When you are lucky in life, it feels good to spread the luck around." This pronouncement by Richard Turco, founding director of the UCLA Institute of the Environment and Sustainability, underpins a recent $1.5-million pledge to the institute from him and his wife, Linda Turco, in support of graduate and undergraduate students. The couple's gift commitment was augmented by $750,000 from the UCLA dean of physical sciences' gift matching program, bringing the total to $2.25 million.
"Thanks in large part to the dedication and pioneering efforts of Richard Turco, the institute has evolved to become a real force for environmental truth and equity," says current IoES director Marilyn Raphael. "And now we add our deep gratitude for the Turcos' generous gift commitment, which will provide the resources to effectively recruit, retain and empower generations of students eager to become change agents for a sustainable environment."
The initial gift funds will be contributed over the next five years, with the deferred balance coming from the couple's estate. When fully funded, the endowment will support an annual lecture, publication awards and fellowships for graduate students, and research awards for undergraduates, with priority given to first-generation students and those with demonstrated financial need.
An atmospheric chemist, Richard Turco joined UCLA's faculty in 1988 and built a multidisciplinary research group focused on pressing environmental problems, including ozone depletion, urban air pollution and the impact of aerosols on climate. Those efforts eventually led to the establishment of the IoES in 1997, which Turco oversaw until 2003. He retired from UCLA in 2011.
"The future of human civilization will best be served by education — at all levels, in all places — and the world's great universities will be called on to provide an unshakable foundation for global progress, equity and prosperity," says Turco, a distinguished professor emeritus and former chair of UCLA's department of atmospheric and oceanic sciences. "Those who have benefited most from past access to education should be among the most willing to support future access for others, with generosity and hope."
Miguel García-Garibay, dean of the UCLA Division of Physical Sciences, which houses the IoES, lauded the Turcos' ongoing support: "Not only has Richard been instrumental in building UCLA's excellence in researching environmental solutions, but he and Linda have chosen to establish a lasting legacy of financial support for this area, helping to ensure the institute's impact for years to come."
Learn more: UCLA Institute of the Environment and Sustainability receives $1.5 million pledge from founding director
UCLA's Office of Gift Planning provides flexible, accessible ways to set up an impactful legacy gift. This includes gifts through a will or living trust (bequests); charitable gift annuities or charitable trusts; and using a variety of assets such as real estate, cash, appreciated securities, or retirement accounts. Some options provide fixed, lifetime income and/or significant income tax advantages, while others result in estate tax savings.
---
  < PREVIOUS ARTICLE             |            NEXT  ARTICLE >           
Read more from the UCLA College Magazine 2022 edition.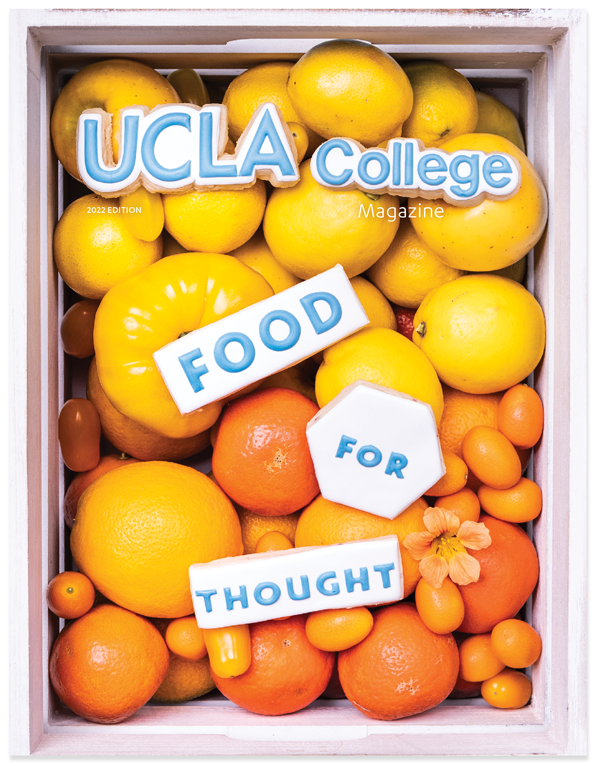 https://www.college.ucla.edu/wp-content/uploads/2022/06/CM22_IMPACT_MarciaHoward_Web-1.png
237
362
Lucy Berbeo
https://www.college.ucla.edu/wp-content/uploads/2019/07/Uxd_Blk_College-e1557344896161.png
Lucy Berbeo
2022-07-01 13:34:31
2022-08-22 15:24:44
The Ripple Effect