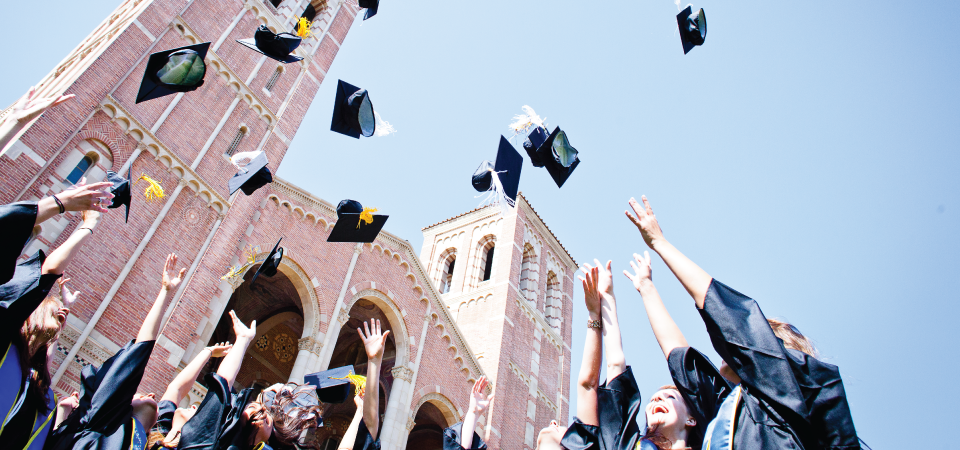 Congratulations to UCLA's Graduates!!
We gather this fall in Royce Hall to honor the achievements of UCLA's Class of 2020 and Class of 2021 bachelor's and master's degree recipients from the College of Letters and Science, the UCLA International Institute, the Samueli School of Engineering, the Herb Alpert School of Music, the School of Nursing (Class of 2020 only), and the School of Theater, Film, and Television.
Links to the livestream video for our commencement ceremonies this fall appear below. Please bookmark this page and come back at the time of each event to celebrate the Class of 2020 and the Class of 2021!
September 4 and 5, 2021
September 4 (Saturday) – 8:00 am (morning)
September 4 (Saturday) – 2:00 pm (afternoon)
September 4 (Saturday) – 4:30 pm (afternoon)
September 4 (Saturday) – 8:00 pm (evening)
September 5 (Sunday) – 8:00 am (morning)
September 5 (Sunday) – 2:00 pm (afternoon)
September 5 (Sunday) – 8:00 pm (evening)
September 11 and 12, 2021
September 11 (Saturday) – 8:00 am (morning) 
September 11 (Saturday) – 2:00 pm (afternoon) 
September 11 (Saturday) – 4:30 pm (afternoon) 
September 11 (Saturday) – 8:00 pm (evening) 
September 12 (Sunday) – 8:00 am (morning) 
September 12 (Sunday) – 2:00 pm (afternoon) 
September 12 (Sunday) – 4:30 pm (afternoon) 
September 12 (Sunday) – 8:00 pm (evening) 
October 3, 2021
October 3 (Sunday) – 8:00 am (morning) 
October 3 (Sunday) – 2:00 pm (afternoon) 
October 3 (Sunday) – 4:30 pm (afternoon) 
October 3 (Sunday) – 8:00 pm (evening) 
October 9, 2021
October 9 (Saturday) – 8:00 am (morning) 
October 9 (Saturday) – 2:00 pm (afternoon) 
October 9 (Saturday) – 4:30 pm (afternoon) 
October 9 (Saturday) – 8:00 pm (evening) 
November 20 and 21, 2021
November 20 (Saturday) – 8:00 am (morning) 
November 20 (Saturday) – 2:00 pm (afternoon) 
November 20 (Saturday) – 8:00 pm (evening) 
November 21 (Sunday) – 8:00 am (morning) 
November 21 (Sunday) – 2:00 pm (afternoon) 
November 21 (Sunday) – 4:30 pm (afternoon)