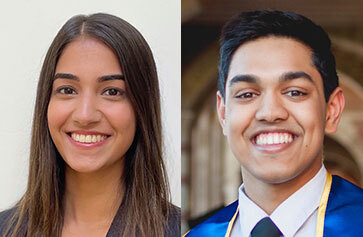 Currently in med school, Isita Tripathi '20 and Nisarg Shah '20 named inaugural Samvid Scholars
By Jonathan Riggs
In addition to enrolling at medical schools at their institutions of choice (Harvard and Yale, respectively), UCLA alumni Isita Tripathi '20 and Nisarg Shah '20 have another reason to celebrate. The two were recently selected from over 700 applicants to join the inaugural class of 20 Samvid Scholars. A new, merit-based graduate scholarship for future changemakers committed to effecting a positive change in society, the Samvid Scholars program offers two years of leadership development programming and supports up to $100,000 for graduate study.
"It's a huge privilege and honor to be part of this community," Tripathi says. "It has been really inspiring and thought-provoking to discuss the different approaches that each of us hopes to take to produce social change."
"I'm excited to be working with everyone, sharing ideas, and figuring out how we can help each other achieve our goals," adds Shah. "I feel very grateful to be part of this inaugural cohort."
For helping them earn this honor, Tripathi and Shah say they owe a debt of gratitude to the UCLA Scholarship Research Center, a free service available to all Bruin students. Primarily assisting undergraduates, the SRC provides invaluable scholarship information, resources and support services that benefit students throughout their time at UCLA and beyond.
How did UCLA prepare you for medical school?
ISITA TRIPATHI: I really loved my education at UCLA. It was the first time I felt like I was educated about history and social inequities from the perspective of the oppressed, which motivated many of my community volunteering efforts. Those experiences helped me better understand the trauma and the systemic factors that play into someone's experiences with the healthcare system, and made me passionate about helping people navigate it successfully.
NISARG SHAH: I think the most helpful part of my education was meeting people in classes and student groups who came from different backgrounds and learning from their diverse ways of thinking. It made me realize that the healthcare system needs to be able to accommodate many varied individual experiences. I felt motivated to pursue medicine in order to bridge those gaps, especially in terms of access to care and cost of services.
How did your minors complement your majors?
IT: Pairing my neuroscience major with a disability studies minor allowed me to understand both the biological and sociopolitical factors around neurodiversity, which shaped much of my work in the autism community. So much injustice and suffering have come from the medical field toward people with disabilities. Seeing that tension has really shaped my perspective on accessibility in healthcare, and allowed me to pursue research and advocacy that merges the social model of disability with existing medical interventions.
NS: The academically rigorous classes and invaluable research experiences in my Microbiology, Immunology and Molecular Genetics (MIMG) major helped me think about science more critically. But I wanted to understand medicine not just as a science, but also examine the critical social and personal components affecting health. With my public affairs minor, I felt challenged to think about how I could apply science to address issues in global health and public policy, which is something that I hope to continue at Yale.
How will you pay your Samvid Scholar experience forward?
IT: This program is about teaching people to play to their strengths and become visionaries in their fields, so I would love to cultivate that in future premeds, despite how rigid or prescribed the path to medicine can feel. In addition to mentorship, I want to fulfill the responsibility that has been given to me as a scholar by centering innovation for the good of society at the core of my work.
NS: Mentorship is very important to me — the mentors in my life are the reason that I was able to get to where I am and to keep moving toward my future goals. I hope to serve as a mentor for anyone who might need it. I also know how lucky I am to be getting such a great education, and I want to improve access to higher education and experiential training, especially for those in underserved communities.
What's your advice for other Bruins to follow in your high-achieving footsteps?
IT: Being at UCLA can feel like you're in a bit of a bubble, but it helps to get out in the community beyond campus and stay connected to the reason you wanted to pursue your major. If you are looking to take a creative route that is unusual for people in your field, don't take "no" for an answer — find the faculty members who will nurture your growth and confidence while using criticism to understand the roadblocks you might face. In general, it can feel very tough to find your own opportunities without a lot of support at such a large institution, but that tenacity and self-starter mentality will help you so much in the future. Remember that you are valued and loved!
NS: UCLA is a great school, but also a big school. That means there are tons of opportunities, but it can be difficult to navigate. Be persistent — don't give up even if what you're working toward is hard to reach. Sometimes the most accessible resources are your peers, so make sure that you lean on them and ask for help. For example, I got great advice from students in classes above me just by asking what strategies they had used and what they would have done differently. And lastly, make sure that you are taking time to rest, and investing in your hobbies and health. Playing basketball and being around my friends helped me find the balance I needed to push forward.
What's a special UCLA place for you?
IT: UCLA, hands down, has the most gorgeous campus. I was always a big fan of the Music Café in particular. Since I used to play flute in high school, it made me feel connected to a different part of myself, which was a nice escape from pre-med stress. Plus, when the doughnuts at Bombshelter sold out by 10 a.m., I could always find them at the Music Café.
NS: I met a lot of people in Dogwood and the dorms near De Neve who are still my friends today. It will always be a special place that reminds me of a fun freshman year and a lot of interesting people. I encourage everyone to make the most of their first-year experience —  those relationships will keep you grounded through all of the ups and downs of college.
To learn more about the UCLA Scholarship Resource Center, click here.
https://www.college.ucla.edu/wp-content/uploads/2021/11/ShahTripathi_363x237.jpg
237
363
Kristina Hordzwick
https://www.college.ucla.edu/wp-content/uploads/2019/07/Uxd_Blk_College-e1557344896161.png
Kristina Hordzwick
2021-11-23 16:05:53
2022-01-04 08:49:09
$100,000 Leadership Scholarships Awarded to Recent Grads