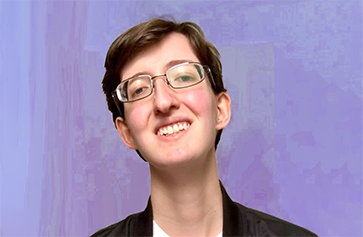 Activist, advocate and artist Christopher Ikonomou looks ahead to his UCLA senior year
---
Jonathan Riggs | July 18, 2022
Scroll through most UCLA students' TikToks and you'll find similar content: summer adventures, pet videos, comedic musings. That's all there on Christopher Ikonomou's TikTok, plus updates on the open-heart surgery he had June 13.
Diagnosed with Marfan syndrome at 18 months old, Ikonomou (who uses he/xe pronouns) posted regularly before and after the surgery, which often becomes necessary for those with the syndrome to avoid potentially fatal aortic dissections. (Ikonomou must rest frequently on his way to class, take elevators in lieu of stairs and avoid strenuous activities: a challenge on UCLA's hilly campus.)
Unflappable with a kind, wry sense of humor — Ikonomou posted a post-surgical TikTok dancing in his hospital bed under the caption, "didn't think I'd get to check off 'hallucinations after open heart surgery' this year" — he has built an impressive social media following. Even more so, however, is his reputation as an activist. An outspoken member of the Disabled Student Union at UCLA who participated in this February's successful sit-in, Ikonomou is a communication major and disability studies minor who hopes to make a career and a difference at the intersection of these fields.
---
"Knowing what I do about my community and the power of entertainment, I want to change disabled representation within media," Ikonomou says. "When I started making TikToks and being very open about my disability, I saw firsthand what people's first reactions could be."
In one instance, he spoofed these reactions by participating in a popular TikTok challenge where users reveal their celebrity doppelganger; Ikonomou jokingly discovers his is the horror character Slenderman.
"The majority of comments I get like that compare me to things that aren't human — our bodies are made to be the villains," Ikonomou says. "The actor Javier Botet, who also has Marfan syndrome, has had a lot of success playing monsters in Hollywood. It's cool he's rich and gets lots of villain roles, but I think we should have the opportunity to play heroes as well. And I want to be a part of that."
Ikonomou knows all about speaking truth to power — he's a longtime debater who grew his high school team from six to 60, served as captain for two years and led them to a national No. 1 ranking. He's also the Editor-in-Chief of UCLA's official queer newsmagazine, OutWrite, and a popular Etsy creator specializing in queer and disability stickers, buttons, pins, apparel and prints. (Proceeds of up to 100% of the sales from his various collections are donated to related charities, including his Pride-themed CASETiFY phone cases.)
---
As he eyes his senior year and his goal of revamping the entertainment industry from the inside, Ikonomou draws strength from the knowledge that he's already overcome formidable challenges.
"I was good at math in high school, but the college level wasn't for me. Announcing that I wasn't going to be a math major anymore was the best and the hardest decision I've made in college," he says. "I make a joke that it was easier for me to come out as trans than it was to say I didn't want to be in STEM anymore to immigrant parents."
Underpinning all Ikonomou's learned so far in his college experience is having the courage to decide what he wants to do, putting himself out there to try and learning from the results. For example, Ikonomou wasn't accepted into the UCLA design media arts major, but considers some of the classes he took in the area among his favorites, including a typography course that has helped immensely with magazine layout work. It's this resilient, optimistic outlook that's helped Ikonomou find like-minded allies — and himself.
"My number one inspiration is the community I have found, both online and in person at UCLA. My illness is very rare, but quite literally millions of people across the U.S. and world experience systemic barriers," he says. "My disability studies minor has shown me how I can use what I'm learning to advocate for a better world for all. That gasses me up and keeps me moving forward."
Raising awareness of Marfan syndrome is the main goal of Ikonomou's educational TikToks, like this one. For more information, he recommends visiting the Marfan Foundation and its Instagram, where you might see a familiar face.
---
https://www.college.ucla.edu/wp-content/uploads/2022/07/christopher-pfp-363.png
237
363
Lucy Berbeo
https://www.college.ucla.edu/wp-content/uploads/2019/07/Uxd_Blk_College-e1557344896161.png
Lucy Berbeo
2022-07-18 11:20:26
2023-01-10 11:56:27
Finding himself at the intersection of communication and disability studies