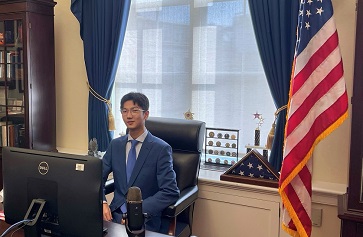 The revamp is in line with UCLA's broader commitment to community-engaged research and learning
---
Whether a student is studying linguistics or philosophy, international development studies or history, psychology or environmental science, there's a space for them in UCLA's Quarter in Washington program.
The program, which was revamped last year, offers a wider-than-ever variety of internships that should appeal to students with interests across disciplines.
"My goal is to build bridges with a broad range of disciplines including labor studies, English and the physical and life sciences so that all will see the value of taking time for study and interning in Washington, D.C., and more students will take advantage of the opportunity," said Juliet Williams, faculty director of the program and a professor of gender studies.
Click here to read the full story.
---
Although the program's fees are similar to those of a quarter at UCLA, many students experiences barriers to access due to hidden costs. (For example, UCLA students who live at home would have to pay for housing at the UCDC Center dorms.) Fellowships of just $1,000 to $2,000 per participant could enable even more students to take advantage of this remarkable opportunity while diversifying our cohort.
To learn more about supporting UCLA's Quarter in Washington students, contact Samantha Booras at sbooras@support.ucla.edu.
https://www.college.ucla.edu/wp-content/uploads/2022/08/BruceFan-1.jpg
237
363
Lucy Berbeo
https://www.college.ucla.edu/wp-content/uploads/2019/07/Uxd_Blk_College-e1557344896161.png
Lucy Berbeo
2022-09-28 17:09:10
2022-10-25 15:35:50
With redesign, UCLA's Washington, D.C. program welcomes students from all majors