Alumni Speakers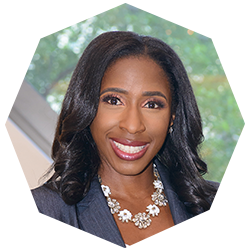 Academic Advancement Program
Medell Briggs-Malonson '01, M.S. '11
"For over 25 years, UCLA has been my source of inspiration and purpose. UCLA instilled in me the principles of service, advocacy and excellence. I strive to uphold these principles each day, and I remain forever grateful to this institution."  
Medell Briggs-Malonson, M.D., M.P.H., M.S.H.S. is the chief of health equity, diversity and inclusion for the UCLA hospital and clinic system. She is also an associate professor of emergency medicine at the David Geffen School of Medicine at UCLA. In her current role, she is responsible for the implementation and oversight of organizational structures and initiatives that promote inclusivity and equity among UCLA Health staff, patients and communities.
Briggs-Malonson prides herself in building a culture of innovation, collaboration and excellence. This has led her to become a nationally recognized health care improvement advisor, speaker and bestselling author. Throughout her career, she has held several administrative and academic roles focused on innovative health care system redesign to advance health equity within diverse communities.
Briggs-Malonson received her undergraduate degree from UCLA, her M.D. from Harvard Medical School, her M.P.H. from the Harvard T.H. Chan School of Public Health and her M.S.H.S. from the UCLA Fielding School of Public Health. She has received several awards of recognition, including being named among the 2015 top health care professionals under 40 from the National Medical Association and the Los Angeles Dodgers 2021 Healthcare All-Star.
---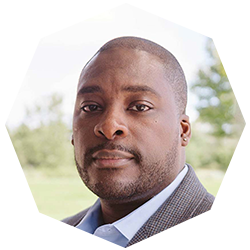 Department of African American Studies
Jakobi Williams M.A. '02, Ph.D. '08
"UCLA afforded me the opportunity to transform my vision and dreams into reality and to forge my own path toward success, and the work ethic to exceed my own expectations!" 
Jakobi Williams is the Ruth N. Halls Associate Professor and Chair of the Department of African American and African Diaspora Studies at Indiana University–Bloomington, with a joint appointment in the Department of History. A civil rights, Black power, social justice and African American history scholar, he has provided hundreds of invited lectures domestically and abroad on the subjects of civil rights and social justice movements.
Williams serves as a civil rights issues and history consultant for the Andrew W. Mellon Foundation, Southern Poverty Law Center, National Civil Rights Museum, Social Justice Initiative at the University of Illinois–Chicago, and Kairos Center for Religion, Rights and Social Justice. His most recent book, "From the Bullet to the Ballot: The Illinois Chapter of the Black Panther Party and Racial Coalition Politics in Chicago," was published by the University of North Carolina Press under the prestigious John Hope Franklin Series in African American History and Culture. The book was the foundation for the script to the Oscar-winning Warner Bros. film, "Judas and the Black Messiah."
His most recent awards include a Mellon Foundation-funded Black Metropolis Research Consortium fellowship, a National Endowment for the Humanities grant, a National Humanities Center fellowship and the Big Ten Academic Alliance Academic Leadership Program award. He received his B.A. in history from Southern Illinois University–Carbondale, and both his M.A. in African American studies and his Ph.D. in history from UCLA. He has held positions at UCLA, the University of Illinois at Urbana-Champaign and the University of Kentucky.
---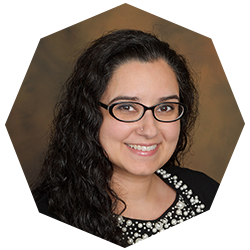 Department of Anthropology
Neetu S. Badhan-Smith '99
"UCLA is the place where dreams begin. It is there the hope for a better tomorrow is born in the hearts and minds of students to take into the world and promote lasting, promising and positive change. I am eternally grateful for my UCLA education and proud to be part of the Bruin community. UCLA broadened my mind, expanded my horizons, made me a better human being and continues to open doors both of understanding and opportunities."
Born and raised in Sacramento, Neetu S. Badhan-Smith is a first-generation South Asian American. She attended a visual and performing arts public high school before she was accepted to UCLA. She was the second person in her family to attend college, and the first to go to graduate school. As a student at UCLA, Badhan-Smith worked with the Women's Resource Center as a peer educator, participating in sexual and domestic violence awareness work, including the Clothesline Project and Take Back the Night. Throughout college, she worked at the library, as a note-taker and at a local arbitration firm. She was also active with the UCLA radio station and with Sangam, a South Asian student group.
Badhan-Smith is a graduate of Southwestern University School of Law, class of 2002. While in law school, she was the chair of the trial advocacy honors program, where she developed a love for trial and social justice work. She was a deputy public defender for 13 years in Los Angeles County, where she represented indigent individuals in criminal cases. Prior to that, she was a staff attorney for two years at the Southern California Housing Rights Center, where she represented individuals in housing discrimination cases in both state and federal court. She was appointed to the Los Angeles Superior Court in May 2017 by Governor Brown, and currently sits in a trial courtroom at the Van Nuys Courthouse. She lives in Los Angeles with her family of humans, two big dogs and a school of fish.
---

Department of Chemistry and Biochemistry
Susan Baumgarten '73, M.S. '76, M.B.A. '79, Executive Program Certificate '91
"My UCLA degrees gave me the entrée to my career; the educational experience gave me a breadth of knowledge which informs and enriches my life; and the campus to this day provides beauty and intellectual stimulation. Through all, the people of UCLA are a family, which is always there for me, and for others."
Susan Baumgarten was a teenage ballerina who transitioned to STEM and an extensive career in electrical/systems engineering, business development, and executive leadership at Hughes Aircraft and Raytheon Company. She led a breadth of organizations in space and airborne sensor development, eventually as a corporate vice president. She later served as president of Raytheon International, integrating activities in 76 countries around the world. Throughout her career, Baumgarten led business and organizational turnarounds, demonstrating her abilities as a visionary leader of technology and as a business strategist. Additionally, she served as an executive-in-residence at the UCLA Anderson School of Management from 2009 to 2017, lecturing and counseling on leadership and advancement in technology companies. She holds three degrees from UCLA: a bachelor's in mathematics and biochemistry, a master's in electrical engineering, and a master's in business administration.
Her efforts now focus on encouraging STEM education and arts access for all. She occasionally presents to Women in Engineering at the UCLA Samueli School of Engineering, and serves on the board of advisors for the UCLA Division of Physical Sciences, on the UCLA Chemistry Advisory Council, and on UCLA's Women & Philanthropy board. She is president of Center Dance Arts at The Music Center of Los Angeles, and serves on The Music Center's board of directors and on the board of Everybody Dance LA.
---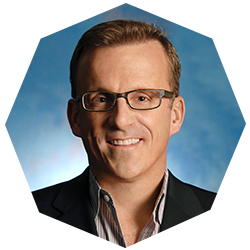 Department of Communication
Chip McLean '87
"To me, UCLA has always meant opportunity—the opportunity to be inspired and challenged in reaching for one's potential, knowing that you are truly welcomed, supported and valued as a member of a rich and diverse community of scholars, students and others of the highest caliber and integrity on so many levels."
Chip McLean serves as senior vice president, head of business affairs and business development for Disney Music Group (DMG) and as general manager of Disney Concerts Worldwide, which he helped to launch. He also serves as The Walt Disney Company's senior executive responsible for Disney Music Publishing. Over his 16-year tenure with Disney, McLean has led the development and implementation of many innovative business initiatives and strategic alliances for the company, including recently overseeing DMG's successful efforts in structuring, negotiating and closing new deals fortifying DMG's global relationships with its recorded music and music publishing partners around the world.
McLean launched his career as an associate attorney with a prominent Washington, D.C., communications law firm. He later joined the new media practice group of Wilson, Sonsini, Goodrich & Rosati in Palo Alto, California. In 1995 he joined Warner Bros. Records, serving in various capacities there, including as vice president of business and legal affairs. A native of Southern California, he graduated magna cum laude from UCLA (B.A., communications with business emphasis) and from Stanford Law School (J.D.).
---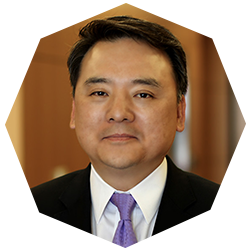 Department of Economics
Doug Pak '96
"I was fortunate enough to get accepted and attend UCLA only four years after my family immigrated to the United States from South Korea. I feel indebted to UCLA, as it offered me education, fun, friendships and personal growth opportunities during a critical time in my life. Thank you, UCLA."
Doug Pak is a serial entrepreneur and seasoned executive who founded a chain restaurant and franchise investment company, BLD Brands, with no money in his pocket and raised more than $120 million. The company grew from scratch to more than $200 million in eight years, and such fast growth earned him the MVP Award for Mega Growth Leadership. He recently launched BLD Ventures to focus on building and supporting companies and organizations that make a positive impact and deliver high value; the company also makes opportunistic investments. His prior work and startup experiences include such diverse areas as technology, real estate, finance and restaurants.
Pak graduated from UCLA in 1996 with a degree in business/economics and currently serves on two UCLA advisory boards. In addition, he established the Pak Family Endowed Speaker Series in Economics, which will launch in the 2023 academic year. He has also served on the Pepperdine University board and on the boards of several private companies and nonprofits.
---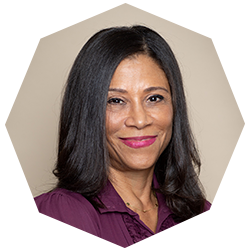 Department of English
Shawn Holley '84
"My mom and her brother both went to UCLA, and I grew up in L.A. with a real sense of pride about that. For that reason, UCLA is the only college I ever wanted to attend, but it wasn't a certainty that I would get in. UCLA saw my passion and gave me a chance. For me, UCLA means pride and opportunity."
Shawn Holley is a partner at Kinsella Weitzman Iser Kump Holley LLP, a boutique Santa Monica law firm, where she practices entertainment/business litigation and criminal defense. She started her career as a Los Angeles County public defender and later worked as an associate at the Law Offices of Johnnie L. Cochran, Jr., where she practiced civil litigation and criminal defense, notably as a highly visible member of the O.J. Simpson defense team.
Holley's list of past and present clients includes Kanye West, Justin Bieber, Michael Jackson, Tupac Shakur, Snoop Dogg, Tory Lanez, T.I., Kathy Griffin, Rosario Dawson, Ryan Phillippe, Lindsay Lohan, Nicole Richie, Paris Hilton, the Kardashian/Jenner family, Katt Williams, Charlamagne tha God, Mike Tyson, Sugar Ray Leonard, Lamar Odom, Reggie Bush and members of Black Lives Matter. Holley is also co-executive producer on a scripted television show that was inspired by her life and career and will air on Hulu in the fall.
---
Department of History
Anthea M. Hartig '86
"I am an eternally proud, third-generation Bruin! When I graduated in 1986, 60 years had passed since my great aunt received her diploma from 'the southern campus' in 1926. My grandmother, father, uncle and sister all hail as proud daughters and sons of Westwood. My training as an historian there truly shaped my life, career and advocacy, for which I am so grateful." 
Anthea M. Hartig is the Elizabeth MacMillan director of the Smithsonian's National Museum of American History and the first woman to hold that position. Hartig stewards a collection that includes 1.8 million objects and more than three shelf-miles of archives, and has set a vision for the museum to be the most accessible, inclusive, relevant and sustainable public history institution possible. An award-winning public historian and cultural heritage expert, Hartig previously served as the executive director and CEO of the California Historical Society and as the director of the Western region for the National Trust for Historic Preservation. She has been involved in historic preservation and public history projects since the 1990s.
---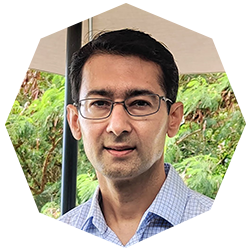 Department of Linguistics
Kamil Ud Deen '94, Ph.D. '02
"UCLA has given me an identity and has opened doors for me. Since graduating, everywhere I go, I am identified as a graduate of UCLA linguistics, and upon that identification, opportunities have been opened to me. It is no exaggeration to say that I would not be where I am were it not for UCLA."
Kamil Deen is currently a professor in the Department of Linguistics at the University of Hawaii at Manoa, researching and teaching on child language acquisition. Born and raised in Nairobi, Kenya, Deen came to UCLA as a freshman intending to study economics and business administration. He discovered linguistics in his second year, and eventually declared himself a linguistics major.
His B.A. in linguistics opened many doors, but he took the academic route, obtaining an Ed.M. from Harvard University in 1995 and returning to his alma mater to receive his Ph.D. in 2002. He has received numerous teaching and research awards, and has held a number of research grants over the 20 years of his time at the University of Hawaii. He credits much of his success to the outstanding education in linguistics he received at his beloved UCLA.
---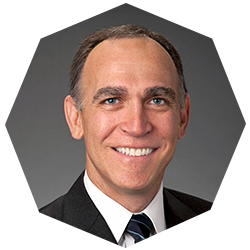 Department of Mathematics
Robert S. Harrison '86
"UCLA provided me with the foundation for my career in banking with my applied math degree. It also allowed me to pursue my other love—a diverse selection of history classes. After all, it's not all about the numbers!"
Bob Harrison is chairman, president and chief executive officer of First Hawaiian Bank. He has been CEO since January 2012, was reappointed president in August 2019 and has been chairman of the bank's board of directors since May 2014. A 26-year veteran of the company who joined First Hawaiian Bank in 1996, he has over 30 years of financial industry experience working for banks in New York and in Hawaii.
Harrison currently serves on the boards of directors of the Hawaii Bankers Association, Hawaii Business Roundtable, Hawaii Community Foundation and Pacific Guardian Life and is chairman of Hawaii Medical Service Association, the Hawaii licensee of the Blue Cross and Blue Shield Association. He served in the U.S. Navy before earning a B.A. in applied mathematics from UCLA and an M.B.A. from Cornell University.
---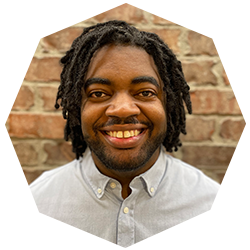 Department of Molecular, Cell and Developmental Biology
D'Juan Farmer '10
"UCLA is where I discovered my passions and where I made lasting relationships that changed the trajectory of my life. I am so thrilled to have found a way back!"
D'Juan Farmer is an assistant professor in the Department of Molecular, Cell and Developmental Biology at UCLA, with a joint appointment in the Department of Orthopaedic Surgery. He received his bachelor's degree at UCLA with a major in molecular, cell and developmental biology and a minor in biomedical research.
Following a post-baccalaureate at the National Institutes of Health, Farmer received his Ph.D. at the University of California, San Francisco, where he investigated the roles of microRNAs during organogenesis in the laboratory of Michael McManus. In 2017, he joined the laboratory of Gage Crump at the University of Southern California and investigated the development of cranial sutures using mouse and zebrafish models. His laboratory now focuses on investigating the inter-cellular and intra-cellular mechanisms of skeletal progenitor specification and function at cranial sutures.
---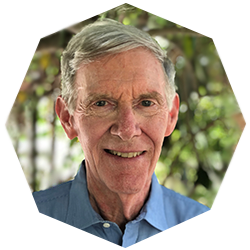 Department of Physics and Astronomy
Donald M. Korn '65, M.S. '66, Ph.D. '71
"As a UCLA freshman, I was most impressed by the academic opportunities and the water polo team on which I played. Sixty years later, I recognize that much of my success is due to having been educated at the highest-ranked public university in the United States."
Don Korn received his B.S. in physics in 1965, Phi Beta Kappa, and his Ph.D. in physics in 1971, both at UCLA. As a postdoctoral researcher at M.I.T. Lincoln Labs, Korn was recognized for identifying the residual impurities in ultra-pure semiconductors. He joined 3M Central Research Laboratory and pioneered the field of digital radiography by inventing a size-scalable digital X-ray sensor. For this work, he was awarded the Charles Ives Medal by the Journal of Applied Photographic Engineering.
Korn then joined Eastman Kodak, where he conducted research in medical imaging devices and simultaneously held three different vice president positions. After he retired from Kodak in 1999, the business that he pioneered sold for $2.3 billion and is now known as Carestream. Korn served as CEO of two different medical imaging startups and was a senior executive in Silverbrook Research, which brought the Memjet inkjet imaging technology to market. He is now retired in Sanibel, Florida, and has an interest in bird photography.
---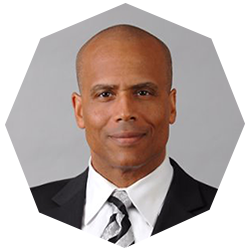 Department of Political Science
Marcellus McRae '85
"In many respects, UCLA opened and expanded my intellectual world across different historical periods, continents, languages and cultures. It also was a launching pad for my lifelong curiosity and fascination with ideas, political theory and philosophy. It was a seemingly endless source of knowledge that helped frame my view of the world and my place in it. And it is where I met my wife of 31 years."
Marcellus Antonio McRae is a partner in the Los Angeles office of Gibson, Dunn & Crutcher, where he serves as co-chair of the firm's global trial practice group. California Lawyer magazine featured him as an honoree in its 2015 Attorney of the Year Awards. McRae has first-chaired numerous jury trials, bench trials and arbitrations in both federal and state courts. He also writes and speaks on trial and litigation skills, white-collar criminal defense, labor and employment law and other topics.
From 1995 until joining Gibson, Dunn & Crutcher in February 1998, McRae served as an Assistant United States Attorney in the Criminal Division, Major Frauds Section, in Los Angeles. During this time, he investigated and prosecuted complex white-collar crimes (tax, securities, bankruptcy and other business frauds) and traditional crimes that involved both jury and non-jury trial experience with a 100% conviction rate at trial. He also drafted numerous appellate briefs filed in the Ninth Circuit Court of Appeals and had several arguments before that court. Prior to joining the United States attorney's office, McRae was an associate with Debevoise & Plimpton.
McRae received his law degree from Harvard Law School in 1988 and earned a B.A. summa cum laude in 1985 from the UCLA Departments of Political Science and History. He currently serves on UCLA's Social Sciences Dean's Advisory Board and Political Science Board of Advisors.
---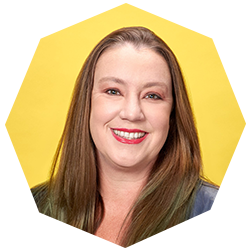 Department of Sociology
Jeremi Gorman '99
"UCLA is in my blood; my first words may have been the eight-clap. Both of my parents are UCLA sociology graduates, and my older sister has both a B.S. and a master's from UCLA. Beginning in 1985, my family journeyed to Bruin Woods each summer, where I ultimately became a counselor for the summer of 1996. It's no surprise I married a Bruin to keep the tradition alive. UCLA has meant family and lifelong friendships for as long as I can remember."
Jeremi Gorman is chief business officer at Snap Inc., where she is a member of the executive team and is responsible for revenue and revenue operations, leading global sales, creative strategy and Snap's newest creative studio for augmented reality, Arcadia. She has spent her entire career in tech, with leadership positions at Monster.com and Yahoo! Prior to joining Snap, she spent nearly seven years at Amazon, where she led global enterprise advertising sales.
Gorman is a proud 1999 graduate of UCLA in sociology. She serves on the Dean's Advisory Board for the UCLA Division of Social Sciences, the board of directors of Samba TV and the board of Women for Women International. A travel-lover and thrill-seeker, Gorman has traveled to over 50 countries, with a goal to double that.