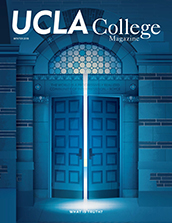 UCLA COLLEGE MAGAZINE WINTER 2018
HUMANITIES: WHAT IS TRUTH?
While debate about "truth" seems to dominate public discourse lately, this is nothing new: scholars and thinkers have been wrestling with concepts of truth since ancient times. We asked faculty from a variety of humanities disciplines to offer their perspectives.
Click here to read further thinking from these scholars about "truth".

LIFE SCIENCES:
Drug combinations may help prevent a deadly post-antibiotic era
Remarkably, 8,119 new combinations of antibiotics are surprisingly effective at killing harmful bacteria, UCLA biologists reported Sept. 3 in the journal npj Systems Biology and Applications (a Nature research journal).
Read more >>

PHYSICAL SCIENCES:
UCLA physicists have pioneered a method for creating a unique new molecule that could lead to many useful applications in medicine, food science and other fields.
Read more >>

SOCIAL SCIENCES:
Luskin Center for History and Policy urges lawmakers to address the value of rent control policies
California voters rejected Proposition 10, which would have repealed the Costa-Hawkins act of 1995 and allowed cities across the state to implement broader rent control policies as a response to California's current affordable housing crisis.
Read more >>

UNDERGRADUATE EDUCATION:
Douglas Yao discovered his passion for research as an undergraduate at UCLA. Now he's embarking on a doctorate at Harvard in pursuit of his goal to run his own lab in the field of bioinformatics.
Read more >>