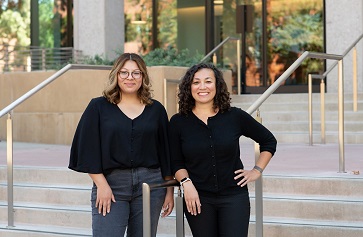 Psychology professor Lauren Ng and doctoral student Yesenia Aguilar Silvan help each other make a difference for others
---
Jonathan Riggs | September 28, 2022
According to the American Psychiatric Association, people from racial and ethnic minority groups in the U.S. may be more likely to experience long-lasting consequences from mental health issues — and less likely to seek and receive treatment.
Identifying and addressing barriers to care for underserved populations is key to the work of both Lauren Ng, assistant professor of clinical psychology and director of the Treatment and Research for the Underserved with Stress and Trauma (TRUST) Lab, and her mentee, doctoral student Yesenia Aguilar Silvan.
"We actually know little about how to provide the best care for minoritized populations, who are typically also more likely to have experienced traumatic events," says Ng, who was honored with awards in 2021 and 2022 for her contributions to the field. "My research focuses on how we make sure that people who need care but have been systematically excluded from mental health treatment, receive it. Yesenia's research interests fit nicely with my own, although she's taking a very novel approach."
Part of a newer field of study known as implementation science, Aguilar's approach focuses on getting people interested in mental health care interventions in the first place. Right now, she's studying how best to optimize therapist websites to increase the rate of people navigating them successfully to engage in therapy.
"I conducted a survey that found that people who were interested in mental health services needed to know who the therapist was, and not a lot of the clinic websites I studied included information like that," Aguilar says. "I'm hoping in the next year or so we can gather even more data based on these changes to the clinic websites see if they make a difference."
Currently, it takes about 17 years for research evidence to reach clinical practice; implementation science like Aguilar's research seeks to reduce that length of time. In part due to her own experience growing up undocumented, Aguilar is personally very motivated to make a difference like this in the real world, in real time.
"I remember asking a professor once, 'What's the point of research?' And he said that for him, research was just finding something that made you mad or upset and then trying to solve it with science," Aguilar says. "I knew from my upbringing that a lot of people are not getting mental health services when they really should, and so I asked myself: 'How do I solve that problem using science?'"
It's a lifelong commitment that Ng shares.
"I'm a biracial person — my dad is Chinese American, my mom is Black — and I grew up in D.C., where I sometimes felt like an outside observer, trying to understand situations from different perspectives," says Ng. "Psychology just seemed natural to me, especially when I realized I could do more than just understand, but also create treatments and interventions to help people."
Getting the chance to work with and learn from Ng was a huge draw for Aguilar, who graduated from UCLA in 2017, to return for her doctorate. She's flourished here, earning multiple honors, including the Ford Foundation Predoctoral Fellowship as well as awards from the Irving and Jean Stone Fund, the UCLA Center for the Study of Women, and the Monica Salinas Graduate Student Endowed Fund. And in Ng's lab, Aguilar has the opportunity to serve as a mentor herself to undergraduate students.
"It has been amazing to have the support system and resources here that have made it possible for me to pursue my dream. I feel as if I can ask Lauren anything, from specific research questions to advice on how to be a more effective mentor," Aguilar says. "She also encourages me to be an independent researcher and to think about my own future, in and out of the lab. I continually learn so much from her."
"UCLA's department of psychology is so strong in large part due to the quality of our graduate students like Yesenia," says Ng. "Yesenia started in community college and was able to transfer to UCLA and to receive the support and opportunities a student of her caliber deserves. That can only happen at a very unique place, one that feels like more than a university."
---
https://www.college.ucla.edu/wp-content/uploads/2022/09/DSC2333-363.jpg
237
363
Lucy Berbeo
https://www.college.ucla.edu/wp-content/uploads/2019/07/Uxd_Blk_College-e1557344896161.png
Lucy Berbeo
2022-09-28 12:12:33
2022-12-01 17:25:00
Mentorship enhances mental health research focused on the underserved