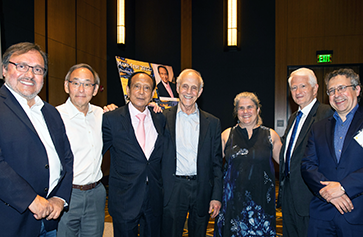 ---
Jonathan Riggs | July 28, 2022
"I believe in one thing," goes the famous quote by Albert Einstein, "that only a life lived for others is a life worth living." From one world-changing physicist to another — Einstein's truism could also be the motto of Mani L. Bhaumik, who celebrated two milestones this year: his 91st birthday and the fifth anniversary of the Mani L. Bhaumik Institute for Theoretical Physics at UCLA.
"Mani's generosity is truly amazing, matched only by his deep passion for fundamental physics," says Zvi Bern, director of the Institute. "I am confident that 50 years from now, people will see that the creation of the Institute was a defining moment that changed everything, bringing UCLA's physics department to the top global echelon."
Beginning with a transformative $11 million gift in 2016 that was the largest in the history of both the UCLA Division of Physical Sciences and the UCLA Department of Physics and Astronomy, Bhaumik's vision of a world-leading center to support foundational work in quantum field theory, unification of forces and, more recently, foundational issues in quantum mechanics, has surpassed all expectations. In fact, its success has allowed UCLA to compete head on with the best universities in theoretical physics.
"Just this past year, two of our students got great faculty offers one year out of graduate school — it is extremely rare even at top universities for a single student to accomplish this, but two students in one year is simply unprecedented," says Bern. "I am also happy to report that the most-cited paper of 2021 on the hep-th physics arXiv — pushing the frontiers of precision general relativity by using ideas from the quantum field — is from the Bhaumik Institute. We are doing what we promised Mani."
In addition, the Institute currently has 10 postdocs and is providing fellowships for 31 graduate students this summer; it has sparked more than 250 scientific papers — and counting; it is involved in efforts to diversify the field of nuclear physics; and it has attracted top-tier faculty to UCLA, including Mikhail Solon, who won a Sloan Research Fellowship, and Thomas Dumitrescu, who won the U.S. Department of Energy Office of Science Early Career Award as well as funding to establish multi-institute collaboration on symmetries.
"The Institute attracts the best people with different scientific backgrounds, and fosters an environment where they can freely exchange ideas and pursue bold new directions. The focus is on supporting young people such as postdocs and graduate students: the lifeblood of the field," says Solon. "This density of people and ideas really elevates the day-to-day scientific interactions and provides the stimulus for creativity. We cherish the intellectual freedom the institute provides, and use it to pursue the best science."
"For me personally, coming to UCLA as a faculty member was completely entwined with the promise of the Bhaumik Institute —I have the honor of being the inaugural holder of the Mani L. Bhaumik presidential term chair in theoretical physics," says Dumitrescu. "I think the Institute has made amazing strides and this rapid progress has definitely been noticed and is appreciated at UCLA and far beyond."
Of course, none of this would be possible without Bhaumik himself, the largest supporter to the UCLA Division of Physical Sciences. In addition to a 2018 gift of $3 million, he recently completed his pledges early ($15.26 million for current-use and endowed funds for the Bhaumik Institute and $1.175 million to support the construction of the UCLA Collaboratory, formerly the chemistry library in Young Hall).
Prior to his distinguished career as a laser physicist, Bhaumik's love of theoretical physics originated as a student in India where he learned about Kaluza-Klein theories from S. N. Bose (of Bose-Einstein fame), igniting his passion for deep questions in theoretical physics.
"Mani's vision for the Institute — to be a world-class center for theoretical physics, to plant the seeds for future Nobel prizes — can be intimidating, but I believe it can be realized and I am honored to be part of building this," says Solon. "Mani's vision for science is at the core of everything the institute is and does. His own quest to understand nature at a fundamental level inspires us all to pursue the deepest questions."
"In addition to all the magnificent accomplishments of the Bhaumik Institute, I have immensely benefited from profound professional discussions with all the physics luminaries at UCLA," says Bhaumik. "As a result, I have gained the intellectual satisfaction of confirming that non-relativistic quantum mechanics used by over 90% of the practitioners can be a real theory, and not just based on the collection of postulates."      
This June's conference, Mani-Fest 2022: Directions in Theoretical Physics, celebrated the past while looking to the future, covering issues ranging from quantum field theory to black holes to string theory to gravitational waves and beyond as well as featuring several presentations highlighting research carried out at the Institute. Among the notable attendees were four Nobel Prize-winning physicists.
"It was nice to see physics outside of the classroom; I was especially interested in listening and talking to people in the field that I'm moving into, high energy theoretical physics," says attendee Anna Wolz, a first-year physics doctoral student at UCLA. "It was inspiring to see who are so passionate about their research and their new ideas. Honestly, it reminds me why I'm here and what I have to look forward to."
"We are so grateful to Mani L. Bhaumik for launching this visionary Institute, and to everyone who has contributed to making his dream an incredible reality," says Miguel García-Garibay, dean of the UCLA Division of Physical Sciences. "Its remarkable success benefits so many, from faculty to students to the field of science itself, and this is only the beginning."
For more of Our Stories at the College, click here.
https://www.college.ucla.edu/wp-content/uploads/2022/07/Mani-Fest2022_BhaumikInstitute_byMarcoBollinger-3474-3-363-1.png
237
363
Lucy Berbeo
https://www.college.ucla.edu/wp-content/uploads/2019/07/Uxd_Blk_College-e1557344896161.png
Lucy Berbeo
2022-07-28 14:02:30
2022-07-28 14:12:07
Celebrating the fifth anniversary of the Mani L. Bhaumik Institute for Theoretical Physics