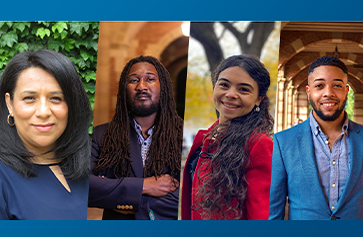 ---
By Jonathan Riggs | June 3, 2022
"What I tell everyone I work with," says Carina Salazar, director of UCLA's Transfer Student Center, "is that you don't succeed at UCLA despite being a transfer student. You succeed at UCLA because you're a transfer student."
Nearly a quarter of UCLA's undergraduates are transfer students; what they bring to campus in terms of their richly diverse life experience cannot be overstated. They arrive at UCLA having made intentional choices and even sacrifices that reflect just what it means to them to become Bruins—one current transfer student living in the residence halls, for example, decided it was her turn to get an education after her children graduated from college.
Established in 2009, the UCLA Transfer Student Center is the go-to resource for current and future transfer students with a stated mission "to provide a welcoming environment and create a community that is inclusive of all lived experiences."
A transfer student herself, Salazar was born in rural Mexico and was the first in her family to graduate from college, so she knows what the experience can mean, especially during commencement season.
"It's such a powerful, emotional experience to see transfer students graduating from UCLA, because the transformation they have experienced here will change the course of their lives forever," she says. "When we meet the needs of our transfer students and help them succeed, the experience for all students is better for it."
"Transfer students are vibrant, essential voices in our shared Bruin community," says Adriana Galván, dean of undergraduate education. "Together, we are UCLA and our united potential is limitless."
Here are a few snapshots of success among our newest Bruin alumni who transferred to UCLA.
Staying Inspired
For a long time, attending college seemed like an impossibility to Chris Adams. He'd dropped out of high school, had a son and was focused on football coaching. But his growing interest in politics and civil rights activism inspired him to get his GED and then complete community college with highest honors.
Transferring via a UCLA College Reentry Scholarship, Adams held a job on campus and fell in love with his coursework. He joined the national civil rights organization People's Alliance for Justice and traveled to Minneapolis with the group after the murder of George Floyd to offer assistance to community members in need. He graduated last quarter with a B.A. in sociology—again with highest honors—and is now preparing to take the LSAT.
"If it wasn't for the support I received at UCLA and the encouragement of my mentors, I wouldn't have believed I could ever start down the path of becoming an attorney," says Adams. "Sometimes I can't believe that everything I dreamed of and worked for actually came to fruition."
Today he finds himself in a unique position, helping inspire two important people in his life to find their way to higher education as well: his high-school-aged son and his mother.
"My son is getting a different type of high school education than I did, and I couldn't be prouder. As he looks ahead to his own college journey, we talk about the things I learned in sociology and how we can both work to change some of the structures in place," Adams says. "And I couldn't be prouder that my mom went back to school and is battling it out now. We definitely laugh about the universal college student desire to procrastinate on writing papers, but she's the smartest person I know."
As he looks ahead to his next steps and reaffirms his commitment to public service, Adams says that becoming a Bruin has given him the ability to picture a fuller future for himself, of service and purpose.
"The entire UCLA community, from my classmates to the Scholarship Resource Center to the faculty and alumni have inspired me to want to become a leader," he says. "I wouldn't be where I am without my mentors, and I'm eager to do what I can to make it easier for those who come after me."
Working Hard
Like so many other talented young people, Darnel Grant originally moved to Los Angeles to get into the entertainment industry, armed with more enthusiasm than material resources. Struggling to support himself in an expensive city, Grant faced housing insecurity for a time—an experience that later informed his studies at UCLA after he transferred in from community college.
"I started my undergraduate experience at UCLA thinking I wanted a career in politics, but my focus has changed to housing, finance and urban planning," says Grant, who worked with faculty on research exploring how to improve housing issues in Los Angeles and across the U.S. Next fall, he will start a master's program in urban and regional planning at the Luskin School of Public Affairs.
No one will be celebrating his graduation more exuberantly, however, than his big sister, who has always encouraged him to realize his full potential. And joining in the celebration will be his allies in UCLA's Scholarship Resource Center.
"SRC Director Angela Deaver Campbell reminded me of family: she always had my best interests at heart and helped me believe in myself," he says. "There were times I'd come to her, overwhelmed, and she'd have me feeling like I was the heavyweight champion of the world."
Thanks in part to the SRC's support and encouragement to apply for the aid he so desperately needed, Grant earned the Eugene and Maxine Rosenfeld Scholarship, which allowed him to start saving money for the first time in his life and focus completely on his studies.
"I really hope I can help the SRC in some capacity one day. All in all, I'm so impressed with how much UCLA has molded me," he says. "I feel prepared for what's next and so, so happy I got through. There were some really intense moments, but this experience proved to me what I can do."
That said, Grant is definitely not someone to rest on his laurels—he's planning to work the entire summer and then pursue an internship to gain experience in the housing finance field.
"I definitely have a lot to prove still," he says. "When I get to a certain point I can prioritize rest, but until then, I'm focused on work."
Realizing a Dream
Daniella Efrat's family knew how much she had always wanted to attend UCLA. In fact, after she successfully applied to transfer in from Los Angeles Valley College, they may have celebrated even more than she did.
"My grandparents printed out a picture of my acceptance letter to UCLA, framed it and hung it on the wall," she says. "Seeing how happy they were for me meant everything."
A political science major with minors in public affairs and labor studies, Efrat came to UCLA after completing an internship at the California Labor Commissioner's office. Moved to action by the stories of people she helped there, she began an independent research project at UCLA conducting an archival study of immigration-related, retaliation wage claims in California since 2013—the first of its type.
"I'm really passionate about research and public service, and my professional goal is to help immigrant workers by bolstering their legal protections as well as their awareness of these protections," she says. "I'm going to do my Ph.D. at Stanford in sociology and then start Yale Law School right after—I would love to become a law professor to focus on these issues."
As excited as she was to transfer to UCLA, Efrat struggled to find her confidence when she first made the switch. But by reaching out to professors whose work she admired, she began to develop a network of mentors who helped her find the right path for her unique journey.
"The best thing you can do—especially at a big school like UCLA—is to contact people and broaden your circle," she says. "It can be life-changing to find mentors who can guide you, and that relationship can begin with a single conversation or email where you ask a question. I still talk to Rebecca Blustein in the Scholarship Resource Center about my career plans, and she still goes out of her way to help me—you'd be surprised at how generous people can be with their time."
As her time as a UCLA undergraduate comes to an end, Efrat is able to look back with pride on all that she accomplished in the time she was here—especially during such a unique time.
"I'm proudest that I was able to engage in everything that UCLA has to offer, even during COVID," Efrat says. "I always dreamed of coming here and I know I made the most of my Bruin experience."
https://www.college.ucla.edu/wp-content/uploads/2022/06/transfers-363.png
237
363
Lucy Berbeo
https://www.college.ucla.edu/wp-content/uploads/2019/07/Uxd_Blk_College-e1557344896161.png
Lucy Berbeo
2022-06-03 12:24:26
2023-01-25 22:09:57
Stories of success: transfer students celebrate their UCLA graduation