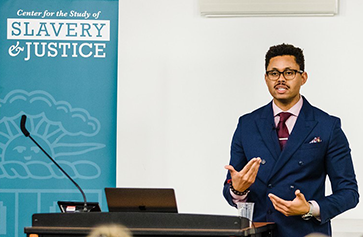 Image credit: Rythum Vinoben
UCLA Professor Terence Keel's groundbreaking interdisciplinary work uncovers deadly hidden bias
By Jonathan Riggs
As a freshman at Xavier University of Louisiana, Terence Keel carried a lot of weight on his shoulders. He dreamed of studying medicine to honor the hard work of his ancestors—sharecroppers, autoworkers and Black servicemen—and the loving diligence of his parents, who championed education and made sure he participated in STEM enrichment programs.
"Everything changed when my mother died from a very aggressive form of cancer. Because she was Black and didn't have a lot of resources, she went undiagnosed when it should have been caught earlier," Keel says. "Her passing shifted for me what I thought about science, medicine and their limits. I started to ask larger questions about the meaning and purpose of death, life, dignity and accountability."
Those questions inspired Keel to switch his major to religion, and to go on to earn a master's at Harvard Divinity School and then a doctorate in religion and the history of science at Harvard. Today, Keel holds a split appointment in the Department of African American Studies (in UCLA Social Sciences) and the Institute for Society and Genetics (in UCLA Life Sciences). In addition, he is the Founding Director of the BioCritical Studies Lab, the Associate Director in the Center for the Study of Racism, Social Justice & Health at the UCLA Fielding School of Public Health, and the Advisor for Structural Competency and Innovation at the UCLA Simulation Center inside the David Geffen School of Medicine.
In 2018, Keel's first award-winning book, Divine Variations: How Christian Thought Became Racial Science, discussed how pervasive Western religious ideas have shaped the approach of scientists and their work.
"For so much of human history, we have wanted to believe that God or nature determines the destiny of living things, so we have downplayed the significance of human activity in charting the course of history," he says. "One clear example is the sustained unwillingness, until recently, to acknowledge that industrialization has fundamentally changed the climate of the Earth. I'm really interested in how our cultural commitments get in the way of good science and hard questions."
His current work takes this sensibility and examines the life chances of Black and brown people, whose very health has been affected by structural racism's influence on everything from access to medical care to prevailing beliefs about biology. Spurred on by the murder of George Floyd and the controversial subsequent medical investigations, Keel launched The Coroner Reports Project.
The project is a collaboration with Nick Shapiro, assistant professor, UCLA Institute for Society and Genetics; Helen Jones of the social justice organization Dignity and Power Now; and Lauren Brown, assistant professor, San Diego State University School of Public Health. It examines crowd-based sources to estimate the number of people who have died in law enforcement custody of causes not related to firearms over the past 20 years—including 350 people they've identified in Los Angeles alone.
"These are instances where a medical examiner or coroner has the most power in determining cause of death, but they're also vulnerable to blaming the biology of the victims and not the actions of law enforcement," says Keel. "We've also looked at a number of individuals who have died inside of the jail system in Los Angeles, which don't get much media attention due to highly public beliefs around the incarcerated. And we are beginning to publish research that shows that there is a real crisis in how we investigate the deaths of the incarcerated and those taken into police custody."
The work of witnessing these injustices and then carefully untangling the complicated factors that contributed to them is heart-wrenching, and Keel struggles sometimes to have these difficult conversations with his three sons, who range from elementary to high school to college age.
"Each new instance is yet another example in a long series of dinner conversations about what it is to be a Black man in this country and how to balance the anger and frustration and despair with hope and optimism," Keel says.
When he feels that weight grow too heavy, he finds release in traveling—especially through Mexico, which offered a haven to many Black Americans who left the U.S during the 1920s and 1930s. But most of all, he draws strength from his activist heroes, like Frederick Douglass, and 20th-century figures such as the anti-lynching crusader Ida B. Wells and the African American sculptor and graphic artist Elizabeth Catlett.
"These fights are very old; Douglass, Wells, Catlett and many other people before me have tried to confront racial terrorism and structural violence. I think we all have an opportunity to respond better to the issues facing our community," he says. "I see myself carrying on the legacy of never losing sight of the social conditions that bear on Black life."
https://www.college.ucla.edu/wp-content/uploads/2022/03/Terence-Keel-363x237.png
237
363
Lucy Berbeo
https://www.college.ucla.edu/wp-content/uploads/2019/07/Uxd_Blk_College-e1557344896161.png
Lucy Berbeo
2022-03-09 13:58:28
2023-01-07 15:57:08
A legacy of confronting injustice