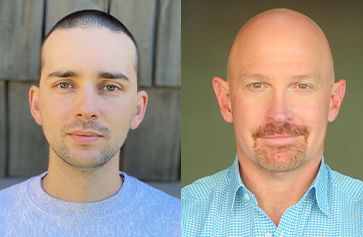 As part of his senior thesis, English major Michael Carli is putting the finishing touches on "Malfunction," a short story about two gay men living in New York City from 1984 to 1986, and English alumnus Christopher Zyda '84 recently published his memoir "The Storm: One Voice from the AIDS Generation" (Rare Bird Books), centered on losing his partner to AIDS in 1991.
Carli will interview Zyda on January 26 as part of an online author discussion hosted by the UCLA Creative Writing Program and moderated by Assistant Professor Justin Torres.
For Carli, writing about the AIDS epidemic stemmed from wanting to examine the era from the unique perspective of his generation.
"I grew up with the worst of the AIDS epidemic behind me, but in a period in which my contemporary artistic heroes, particularly when I was a teenager and in my early 20s, were the ones who were left, who had witnessed the destruction [caused by AIDS] firsthand," Carli said. "It's important for me to examine that history now because I feel in a way that it's been forgotten or misunderstood by my own generation."
Like so many writers, Carli has always been a voracious reader. It was his love of literature that lured him back to school after a stint selling shoes at a Jimmy Choo boutique in Boston. Six years ago, he moved to Los Angeles and worked as a nanny and chef for a family in Santa Monica while attending community college. In 2019, he transferred to UCLA and discovered his passion for creative writing.
Carli said, "Years ago I was afraid to admit to wanting to write novels. The creative writing program has changed things for me. Not only do I feel secure in the education itself and the technical skills I'm attempting to master here, but I feel more confident I can do it. I'd read works by [my professors] Mona Simpson and Justin Torres before I came to UCLA, and it's really a dream to be in the same room with them. All of my professors in the Department have been incredibly instructive and supportive."
After graduating from UCLA, Carli plans to pursue an MFA degree in creative writing and complete his first novel. Through his fiction writing, he hopes to have a positive impact on environmental issues such as climate change.
"Moving through this century, facing ecological collapse, those of us working in the humanities have a special responsibility to engage with and respond to the work that scientists are doing. We have the power to translate, as it were, that work to the public by appealing more directly to readers' emotions," Carli said. "I hope to do that with my writing."
Like Carli, Chris Zyda planned to write for a living after graduating from UCLA, but he ended up setting aside his book-writing ambitions for more than 35 years.
Zyda came of age in the early years of the AIDS epidemic and, like most, had no idea of the devastation to come. Then in 1986, his partner Stephen was diagnosed with AIDS. Knowing that sky-high medical expenses were on the horizon, Zyda decided to obtain his MBA from the UCLA Anderson School and pursue a career in corporate finance. He went on to serve in high-level financial roles for industry giants like The Walt Disney Company, Amazon, and eBay before founding his own boutique investment management firm, Mozaic LLC, in 2007.
The idea for "The Storm" began with a journal entry in 2011 on the 20th anniversary of Stephen's death, but Zyda didn't start writing the book until 2017, a disciplined process that took only six months alongside running his business. In the book, he recounts the highs and lows of his life through the lens of family dysfunction, Stephen's battle with AIDS, grief, the gay rights movement, the scientific quest to understand the virus, and the big cultural moments of the era.
Zyda said, "When I first started, one of my fears was that I wouldn't remember what had happened because I had spent 26 years trying to forget it and stuffing it all away. Fortunately, I am a packrat and save receipts, ticket stubs, photos, and letters. I also made a playlist of music from that time to help me remember. Writing "The Storm" became a cathartic, healing experience."
As for the central message of "The Storm," Zyda said, "At some point in life, everybody has to deal with some version of what I call 'the storm.' Whether it's divorce or losing a loved one or losing a job or any other personal challenge in life, remember that you can get through it. My book is a story of survival, of coming through a really challenging situation and having a wonderful, positive life afterwards."
Author discussion with Chris Zyda: Tuesday, January 26, at 4:00 p.m. To register, please click here.
UCLA's English department has offered creative writing courses for more than 40 years, including undergraduate concentrations in fiction and poetry writing, as well as workshops in fiction, poetry, screenwriting, and creative nonfiction. Learn more: https://english.ucla.edu/creative-writing-faqs/
This article was written by Margaret MacDonald.
https://www.college.ucla.edu/wp-content/uploads/2021/01/HUM_363x237.jpg
237
363
Evelyn Tokuyama
https://www.college.ucla.edu/wp-content/uploads/2019/07/Uxd_Blk_College-e1557344896161.png
Evelyn Tokuyama
2021-01-07 10:40:50
2021-09-17 11:28:55
The AIDS pandemic of the 1980s and '90s forms the backdrop for written works by two Bruins, born generations apart