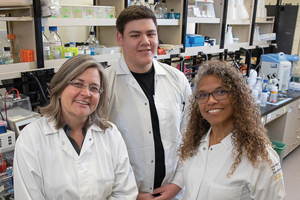 UCLA senior José Gonzalez is on a mission to move the needle on autism research. With the support of COMPASS, his family and his mentors, he is well on his way.
The California native was raised in a small Central Valley town in the heart of the state's agricultural greenbelt. All five of José's siblings earned college degrees—a point of great pride for his parents, who were unable to receive an education past the sixth grade.
"My parents always stressed the importance of higher education as the way to move up," Jose said.
José's father, originally from Mexico, works as a foreman in the citrus orchards of The Wonderful Company, which provides college scholarships and other incentives for their employees' children who maintain good GPAs. That financial assistance helped the Gonzalez children pay for college.
In his sophomore year, José began participating in COMPASS and received the Life Sciences Dean's Award, which provides stipends allowing students to pursue research work rather than work at part-time jobs. He has benefited from the invaluable guidance and mentorship of UCLA faculty and COMPASS co-directors Megan McEvoy and Gina Poe, scientists who have helped José navigate the challenges of a science degree.
Now a senior, José works in the lab of one of the world's leading autism experts, Dr. Daniel Geschwind, studying genes that regulate developmental pathways integral to brain development. José's decision to study autism was spurred when his nephew was diagnosed with the disorder, and he says the experience has been transformative.
"Without COMPASS, I would not have had the chance to work in Dr. Geschwind's lab or be on the career trajectory I'm on now," he said.
José's goal is to become a pediatric neurologist with his own lab at a university, much like his mentor, Dr. Geschwind.
https://www.college.ucla.edu/wp-content/uploads/2019/08/Gonzalez_300x200.jpg
200
300
Margaret MacDonald
https://www.college.ucla.edu/wp-content/uploads/2019/07/Uxd_Blk_College-e1557344896161.png
Margaret MacDonald
2019-08-01 15:45:37
2023-07-18 13:20:29
College Senior José Gonzalez is on a Mission to Understand Autism