By Stuart Wolpert and Margaret MacDonald
Not many people know there's a 7 1/2 acre oasis on the UCLA campus that is home to 3,000 plant species, or that it's been there since 1929 — the year the university moved to Westwood.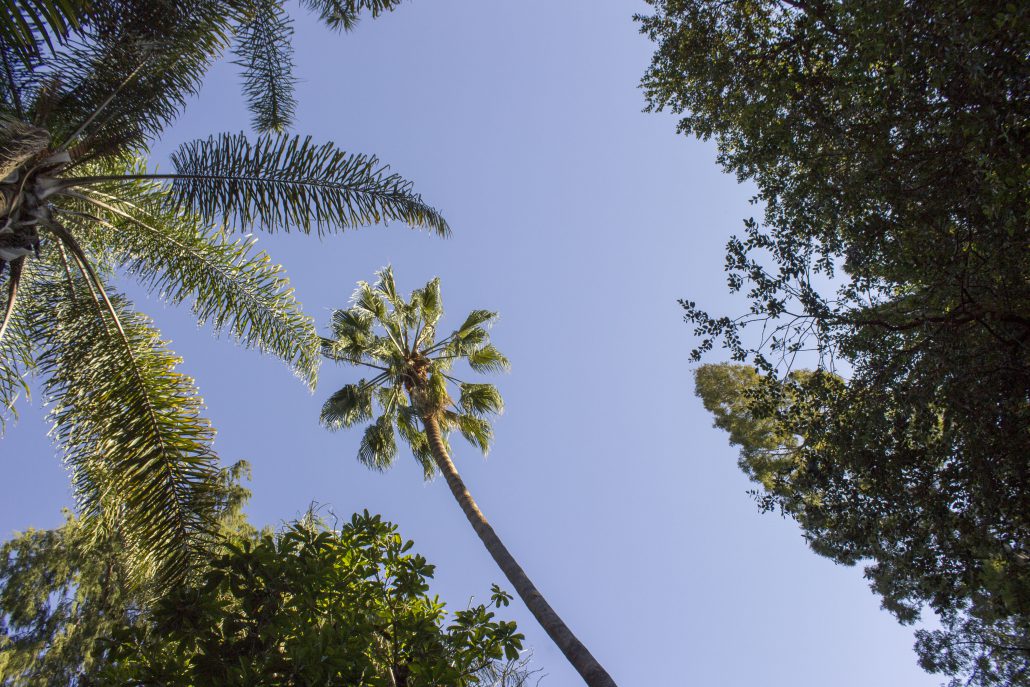 The Mildred E. Mathias Botanical Garden is undergoing the largest, most comprehensive upgrade in its history, one that will allow UCLA to better highlight the natural beauty, utility and incredible diversity of the plant kingdom for the benefit of the campus community and the general public.
The garden, which includes many plants not found anywhere else in California, has a wide range of environments within its borders, from the sunny, dry desert and Mediterranean sections on the eastern edge to the shady verdant interior. Among the garden's offerings are collections of tropical and subtropical trees, Australian plants, conifers and Hawaiian plant species.
Dean of Life Sciences Victoria Sork said the garden is an important outdoor laboratory for undergraduate science courses and plant research, a learning destination for the more than 1,500 K-12 students from Los Angeles who visit each year, and a venue for community events ranging from music recitals to poetry readings.
Nurturing a neighborhood treasure
"The garden is a cherished part of our community, but has been desperately in need of improved infrastructure and maintenance," Sork said. "Chancellor Gene Block is committed to achieving this, and we intend to raise $25 million over a decade to do so."
The latest improvement is the La Kretz Garden Pavilion, which houses a new welcome center and classroom and meeting space. Made possible by a lead gift from UCLA alumnus Morton La Kretz, the pavilion is part of the first phase in a series of renovations to increase the garden's visibility and upgrade its infrastructure, including improving the trails and adding an irrigation system.
There are also plans to build an informal patio with a fountain, improve pathways, add a new Westwood entrance, renovate a 200-foot stream that is home to turtles and koi, upgrade the garden's outdoor amphitheater, add plants that increase the diversity of specimens, and expand plant collections from California and Baja California.
Sork praised the "beautiful building and creative design work" of Michael Lehrer, president of Lehrer Architects, and Roberto Sheinberg, the firm's director of design, who are leading the garden's revitalization project. They are working on the project in partnership with Mia Lehrer + Associates and UCLA Life Sciences.
Roots in research
Beyond a teaching space, the garden is an active research site used by UCLA science faculty and students to delve into projects such as studying plants' DNA to reconstruct their evolutionary histories, conducting surveys to better understand plants' susceptibility to climate change and drought, and experimenting with restoring degraded soils for food and biofuel production.
But the main draw for the general public is the tranquility of this natural space in the middle of an urban area.
"When I give tours, everybody is amazed by the beauty of the garden," said Philip Rundel, director and a distinguished professor of ecology and evolutionary biology who holds a joint appointment in the UCLA Institute of the Environment and Sustainability. "They can't believe they are in West L.A."
"We are preserving and improving this magnificent garden for future generations so that people can reconnect with nature and plants," Sork said. "Many people don't even know this treasure exists, but it's free and open to everyone. While visitors enjoy the garden's beauty, they can also learn about ecosystems, biodiversity and conservation."
HISTORY
The garden was started in 1929 along an arroyo on the east side of the campus, where native willows grew along the creek bed and dry hills supported coastal sage scrub, native to Southern California. By 1947, the garden contained about 1,500 species and varieties of plants, and by the 1950s it included eucalyptus and other Australian plants, gymnosperms, palms, succulents, aquatics, and camellias.
Since the early 1960s, efforts have been made to grow plants from the tropics and subtropics. Over the years, special collections have been established that include Malesian rhododendrons, the lily alliance, bromeliads, cycads, ferns, Mediterranean-type climate shrubs (e.g., chaparral), and native plants of the Hawaiian Islands.
In 1979, the garden was named for former director Mildred E. Mathias in recognition of her numerous contributions to horticulture.
Learn More
Visit the garden located west of Hilgard Avenue and east of Tiverton Avenue, just a short walk south from Parking Structure 2. The garden is open daily from 8 a.m. to 5 p.m., and until 4 p.m. during winter. It is closed on university holidays. Admission is free. https://www.botgard.ucla.edu/
Watch a video of the garden at https://youtu.be/g8idANssFRY
https://www.college.ucla.edu/wp-content/uploads/2018/01/toc-garden121517_1.jpg
773
1030
UCLA College
https://www.college.ucla.edu/wp-content/uploads/2019/07/Uxd_Blk_College-e1557344896161.png
UCLA College
2018-01-24 11:49:12
2018-01-24 11:49:12
REVITALIZING AN OASIS IN THE MIDDLE OF THE CITY