Judge Kevin Brazile recently appeared in a UCLA Newsroom article featuring his involvement in the College's JusticeCorps program. The College recently caught up with Brazile to learn more about his time at UCLA and how he has dedicated his life to the law.
As a young boy, Kevin Brazile didn't know any lawyers. But he always looked up to his elder brother who was a deputy sheriff.
"You'll be the first one in the family to go to college," Brazile recalls his brother saying. "You'll be the first one in the family to ever go to law school."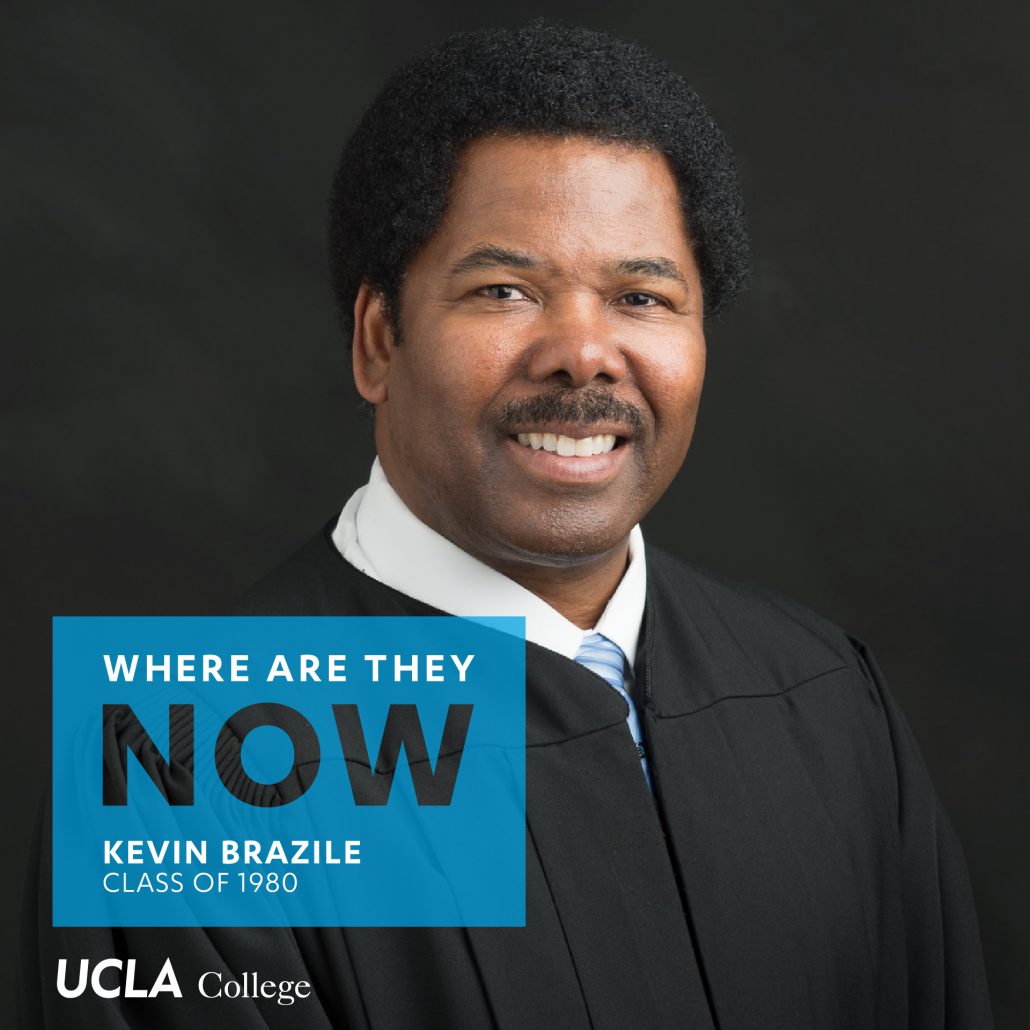 Today, Brazile is Assistant Presiding Judge with the Los Angeles Superior Court, the busiest and largest court system in California.
Brazile's journey to the Superior Court started with the constant support from his brother, who at any chance he could get, would introduce him to his own lawyer friends. Those interactions fascinated Brazile, and although his family was poor, he knew that one day he would attend UCLA and become a lawyer.
It wasn't an easy road. He first attended West Los Angeles Junior College, and then transferred to UCLA after two years.
As a non-traditional and first-generation student, Brazile remembers studying during the day and working several jobs during the evening and weekends to pay for school.
"I worked at a clothing store and at a place where we loaded boxes on trucks – I did whatever I could find," he said. "I did gardening at one point and even worked for a moving company because I needed money."
Despite the hard work outside of the classroom, Brazile was determined to make the best of his opportunity at UCLA. He excelled in his coursework and graduated in 1980 not only with a B.A. in political science, but with the distinct honor of cum laude.
By the time he completed his undergraduate career, he knew he wanted to pursue law at UCLA.
"When I got into the UCLA School of Law – that was it," Brazile said. "I didn't want to go anyplace else."
Brazile earned his J.D. in 1983, passed the California Bar Exam, and immediately began to practice law.
Once a Bruin, Always a Bruin
Brazile worked 18 years with the County Counsel's Office where he was the first African American to serve as division chief of the General Litigation Division. There, he oversaw the defense of police misconduct as well as employment discrimination and sexual harassment litigation.
It was also during his tenure with the county that he successfully argued the case Conn vs. Gabbert before the United States Supreme Court.
Brazile recalls working tirelessly on the case, which dealt with the question, "Does a prosecutor violate the opposing attorney's Fourteenth Amendment right to practice his profession when the prosecutor causes the attorney to be searched at the same time his client is testifying before a grand jury?"
He readily admits to being extremely nervous during the months leading up to his arguments, but he was determined to know the facts of the case better than the opposition.
Sticking to his personal mantra, "Be ready. Be prepared," Brazile sought the help of his alma mater to prepare for arguments before the Supreme Court. The UCLA School of Law referred him to then-professor, John Wiley Jr., an expert in antitrust, intellectual property and criminal law.
"John didn't know me and I didn't know him, but he said, 'You're from UCLA. You're one of our former students, so I'm going to help you.'" Brazile said.
Under Wiley's mentorship, Brazile fine-tuned his arguments and ultimately received a unanimous judgment from the Supreme Court in his favor.
Looking back at this career-defining experience, Brazile notes that it was his connection to UCLA that helped him to succeed.
"The people I met at UCLA are now lifelong friends and we help each other," he said. "We're there for one another, supporting each other in the good times and the bad times."
To this day Brazile is good friends with Wiley, who now serves as a judge with the Superior Court.
In 2002, after nearly two decades as a lawyer and with a successful Supreme Court ruling under his belt, Brazile was appointed judge.
A Mentor for the Next Generation
Seeing firsthand the benefits of mentoring on his own life, Brazile has made a point of mentoring young minority lawyers. During his 15-year tenure as a judge, Brazile has sought to put people in a place to lead, and he encourages them to do their best to make a difference.
"Once you get to the top, you don't want to push the ladder away, you want to hold it for somebody else," Brazile said.
After completing his term as Assistant Presiding Judge, he will become the next Presiding Judge of the Los Angeles Superior Court. In his new role, Brazile would supervise 38 courthouses and nearly 600 judges and commissioners. He would also be the first African American Presiding Judge of the Los Angeles Superior Court.
Looking to the future, Brazile said, "I am excited about the opportunity to be the next Presiding Judge and look forward to finding, shaping and developing new leaders for the court."
https://www.college.ucla.edu/wp-content/uploads/2018/01/Brazile_featphoto.jpg
800
1200
Rayna Jackson
https://www.college.ucla.edu/wp-content/uploads/2019/07/Uxd_Blk_College-e1557344896161.png
Rayna Jackson
2018-01-22 14:01:09
2018-01-22 16:13:13
Where Are They Now: Kevin Brazile