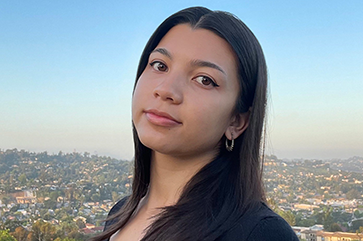 Graduating senior Ava Boehm designed her own major to further her social justice pursuits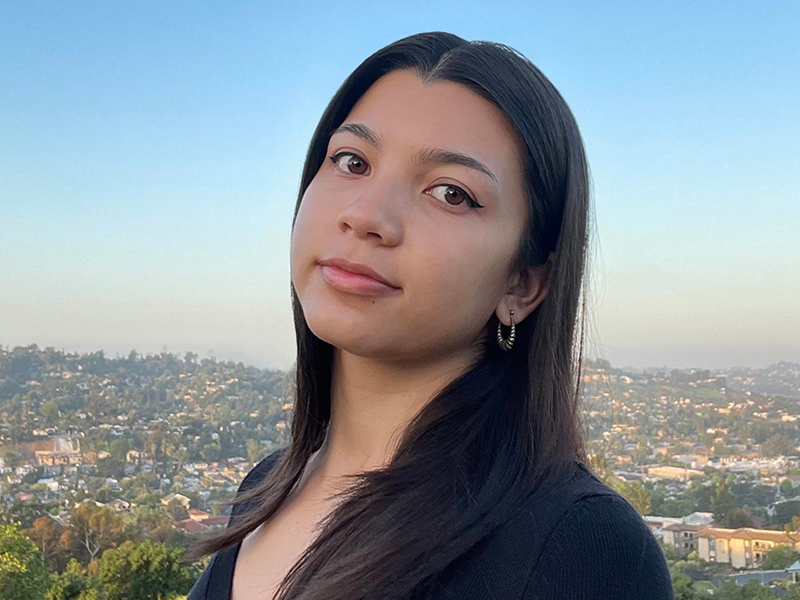 Courtesy of Ava Boehm
---
Lucy Berbeo | May 18, 2023
Ava Boehm (she/her) was just 16 when she took a UCLA course on language, gender and stereotypes that sparked her future journey as a Bruin.
"It felt like I was performing self-surgeries — drawing a scalpel over my skin to better understand the linguistic mechanisms that underpin my thoughts and interactions," she says. "Simply put, I loved it."
From that moment as a high school student on a UCLA Summer Sessions scholarship to when she later enrolled as an undergraduate, Boehm sought to recreate that experience, which dovetailed with her growing commitment to social justice. But the classes she wanted to take were scattered across disciplines — and so she set out to design her own major, becoming one of few students to choose this option offered by the UCLA Division of Undergraduate Education.
"Two incredible professors, Norma Mendoza-Denton in anthropology and Yael Sharvit in linguistics, agreed to mentor me," says Boehm, who has received the UCLA Academic Advancement Program's AAP Council Scholarship, among other honors. "I had a pretty clear idea of the content and classes that I wanted to include in my major, but my mentors played a big role in helping me articulate my interests."
Pairing the individualized field of study, "Language and Power," with a second major in sociology was a necessary step toward understanding the social structures wherein language is produced, she says, in order to imagine more inclusive ways of communicating. For her senior thesis, Boehm developed an interdisciplinary project analyzing the language of pro-choice protest signs.
Her identity as a first-generation college student and biracial woman fuels her dedication to addressing inequities that face marginalized communities. She's gained on-the-ground experience through several internships, including one with the grassroots nonprofit Witness to Mass Incarceration.
"As a development intern, I worked closely with the organization's founder and executive director, Evie Litwok — a queer, Jewish, formerly incarcerated activist," she says. "The program was especially eye-opening because she shared her firsthand experiences of incarceration and invited us to hear the stories of many others who were subject to the U.S. criminal justice system."
---
"I ultimately hope to pursue a career that weaves social action with linguistic analysis in a way that has a tangible impact on my community."

—AVA BOEHM, CLASS OF 2023
---
In another internship with the United States Agency for International Development, Boehm worked within the agency's Bureau for Humanitarian Assistance, collaborating virtually with a team of interns to research the structural barriers that have made USAID employment unattainable for skilled, yet overlooked populations — the "invisible talent pool."
"We structured our research around groups like 'single parents' and 'transgender individuals,' paying special care to how intersecting injustices affected each demographic," says Boehm, adding that her team ultimately outlined their findings and recommendations in a formal report that was shared within the agency.
Staying true to a passion for arts activism that she developed in high school, Boehm complements her work with dance, film and creative writing projects. "I've taken creative writing courses through the English department and had one of my poems published in 'Westwind,' the undergraduate literary journal," she says. "In sharp contrast to my empirical academic studies of language, I delight in the fluidity of creative writing and the way it allows me to decontextualize linguistic elements and play with abstract imagery."
Adding to her growing exploratory repertoire, Boehm went solo skydiving last year on a sporting scholarship while studying abroad in Glasgow as part of the UC Education Abroad Program.
"It was an exciting opportunity for obvious reasons, but it also struck me as an incredibly unique way of experiencing the Scottish countryside," she says. "When I finally made the jump, it exceeded all of my expectations."
As she looks toward graduation this June, Boehm's willingness to take the proverbial leap pairs powerfully with her dedication to public service. She plans to work in a community health clinic over the summer as part of a program with the Community Clinic Association of Los Angeles County.
"Beyond that, I will be seeking roles related to intersectional activism and social justice advocacy," she says. "I ultimately hope to pursue a career that weaves social action with linguistic analysis in a way that has a tangible impact on my community."
---
For more of Our Stories at the College, click here.
https://www.college.ucla.edu/wp-content/uploads/2023/05/AvaBoehm-363.png
241
363
Alvaro Castillo
https://www.college.ucla.edu/wp-content/uploads/2019/07/Uxd_Blk_College-e1557344896161.png
Alvaro Castillo
2023-05-17 17:59:46
2023-05-19 08:31:39
A movement of her own