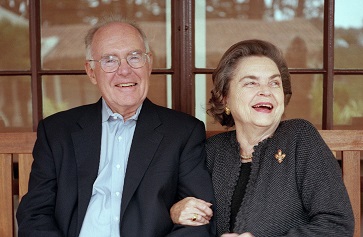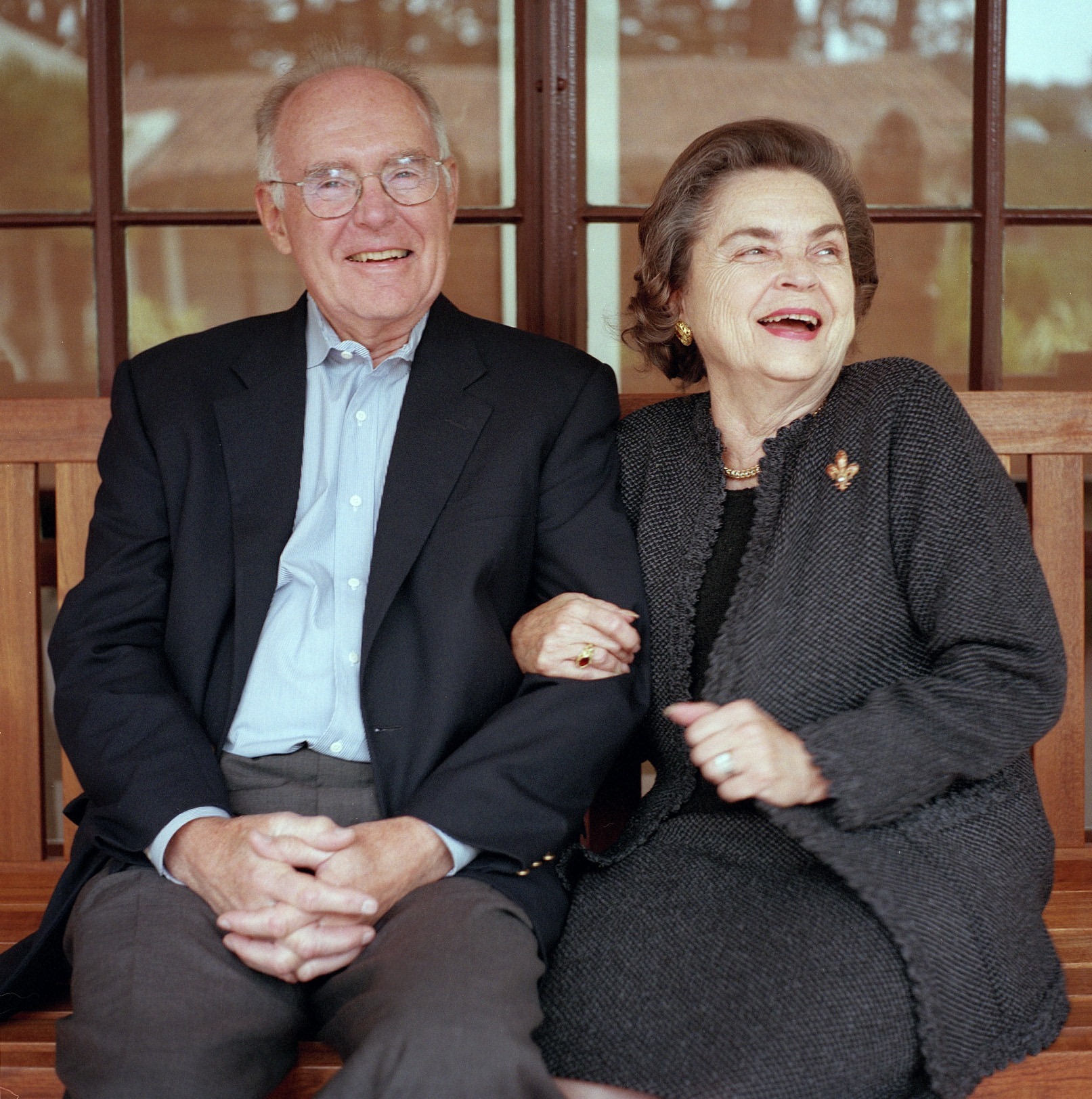 PHOTO BY SUSANNA FROHMAN, SAN JOSE MERCURY NEWS
Gordon Moore, left, and his wife Betty Moore.
---
Jonathan Riggs | March 28, 2023
Gordon Moore, known as Silicon Valley's "quiet revolutionary" for his trademark blend of humility and world-changing genius, died Friday, March 24 at age 94, surrounded by family in Hawaii.
The co-founder and leader of Intel and Fairchild Semiconductor, Moore established a legacy as a formative titan of the tech world matched only by the massive philanthropic impact he and his wife, Betty, have achieved through their charitable foundation, the Gordon and Betty Moore Foundation, one of the largest of its kind in the U.S.
"Gordon Moore did more than make his mark — he reshaped the world due to his endless curiosity, ingenuity and compassion," said Miguel García-Garibay, dean of physical sciences. "The entire UCLA community can draw inspiration from his remarkable accomplishments and equally remarkable commitment to paying his success forward."
The Moores' visionary generosity and dedication to investing in basic science have translated to support across UCLA's campus, particularly in its world-leading physics and astronomy department. Over the past three decades, the department has driven the design of adaptive optics technology built on-site at UCLA, which improves the performance of optical systems on the world's largest telescopes.
The UCLA Infrared Lab designs many of the instruments used by the W.M. Keck telescope and others, while UCLA researchers use these instruments designed by their colleagues to push the envelope of what's possible, achieving extraordinary observations and continually driving innovation in design and methodology — all while expanding a vibrant partnership with Caltech, supported through tremendous generosity from the Gordon and Betty Moore Foundation.
The Moore Foundation has advanced the entire field of astronomy with their support of the W. M. Keck Observatory, home to the world's largest and most scientifically productive ground-based telescopes, and by supporting the significant partnership between the University of California and Caltech to build the world's most powerful optical telescope, the future Thirty Meter Telescope.
This dynamic plays an especially critical role in the work of 2020 Nobel laureate Andrea Ghez, UCLA's Lauren B. Leichtman and Arthur E. Levine Professor of Astrophysics, to whom the Gordon and Betty Moore Foundation awarded a $5 million grant last year in support of her group's search for extended dark mass and new physics in the supermassive black hole environment at the center of the Milky Way.
"Gordon and Betty Moore's commitment to supporting scientific research makes our work possible," said Ghez. "Our successes in technology-driven discovery are the direct result of Gordon's foresight, his understanding of the scientific process and the culture of innovation that he instilled within the organizations that he led. Absolutely remarkable things have been achieved, and we're poised for such profound and awe-inspiring discoveries ahead. All of this is Gordon's legacy."
The Moores' generosity has touched countless California lives. They gave $600 million to Caltech, $100 million to co-found the Betty Irene Moore School of Nursing at UC Davis and have helped support many promising Bruins, including Wesley Campbell, associate professor of physics; Kristen Choi, assistant professor of nursing; and the Quantum Biology Center at the California NanoSystems Institute at UCLA.
In another example, UCLA's Mona Jarrahi, professor and Northrop Grumman Chair in Electrical Engineering, was named one of five inaugural Moore Inventor Fellows. This program was created by the Moore Foundation to nurture the next generation of scientists and inventors and, in honor of Gordon's world-changing scientific innovations, to encourage breakthroughs that accelerate progress in the foundation's key areas of interest: scientific discovery, environmental conservation and patient care.
Born in San Francisco in 1929, Moore grew up in the small California town of Pescadero, loving science and the natural world. A lifelong fisherman and adventurer, he met his match in Betty Irene Whitaker in 1947 at a student conference, and they married in 1950.
After earning his Ph.D. in 1954, Moore began his meteoric professional rise. He co-founded Fairchild Semiconductor in 1957 and then Intel in 1968, creating the microchip revolution, leading the world's largest semiconductor company and establishing the Silicon Valley culture that endures today.
Although his career plaudits included the National Medal of Technology and Innovation and the Presidential Medal of Freedom, one of the most fitting honors Moore received was when he and Betty were named California's most generous philanthropists in 2017. As they built a remarkable legacy of philanthropy, the two reflected on the importance of giving back.
"We thought we had an opportunity to make a significant impact on the world," Moore once said. "And really that is what was attractive. To do something permanent and hopefully on a large scale."
---
For more news and updates from the UCLA College, visit college.ucla.edu/news.
https://www.college.ucla.edu/wp-content/uploads/2023/03/Gordon-and-Betty-Laughing-credit-Susanna-Frohman-San-Jose-Mercury-News-1.jpg
237
363
Lucy Berbeo
https://www.college.ucla.edu/wp-content/uploads/2019/07/Uxd_Blk_College-e1557344896161.png
Lucy Berbeo
2023-03-28 16:56:59
2023-03-28 16:58:19
'A significant impact on the world': honoring the memory of Gordon Moore (1929-2023)