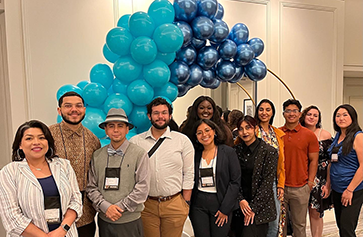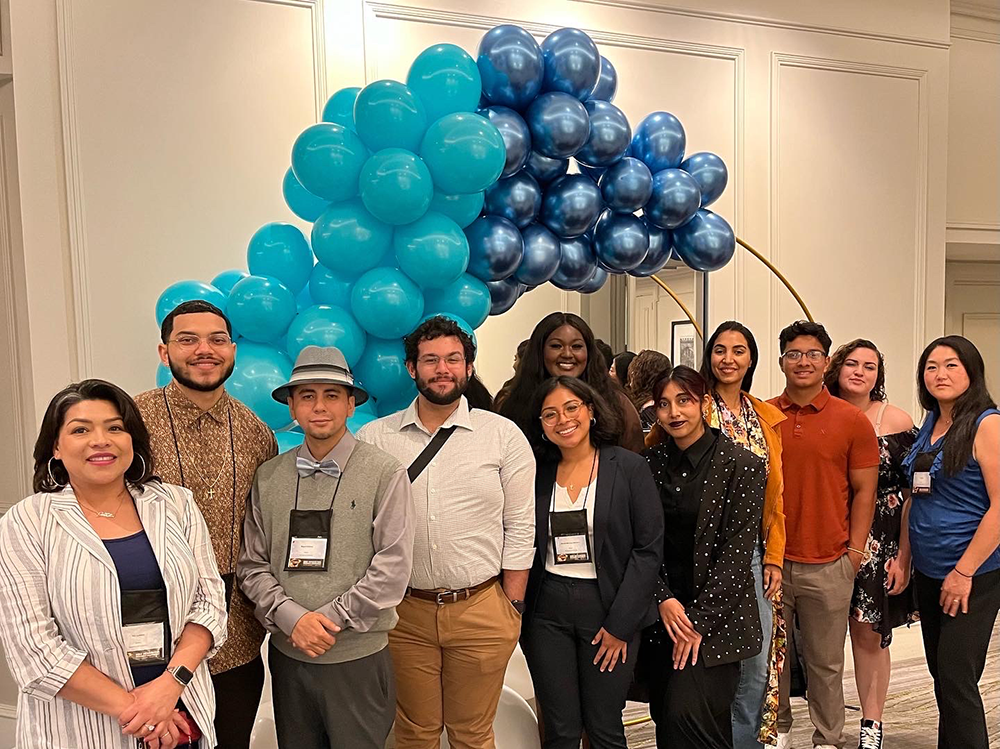 The UCLA McNair Research Scholars Program prepares undergraduate students interested in pursuing a Ph.D. to not only apply to, but also excel in the best graduate school programs in the country.
---
Jonathan Riggs | March 9, 2023
UCLA's Academic Advancement Program celebrates an important milestone this summer: the 20th anniversary of the UCLA McNair Research Scholars Program.
A two-year, research-based initiative that prepares cohorts of 28 juniors and seniors to reach — and excel in and after — graduate school, the program helps its scholars "transform the academy" by using scholarship and research to achieve social change and justice.
"The impact of this incredible program and those whose lives it has touched cannot be overstated," said Adriana Galván, dean of the UCLA Division of Undergraduate Education. "We are so proud of our McNair Scholars, who believe in blazing new trails for the benefit of all."
"It has been astounding to see the Scholars carve these remarkable journeys into academia and other careers with their doctorates that they may never have thought possible before," said Alice Ho, who has served as director of the UCLA McNair Research Scholars Program since 2010. "I am inspired by how our program and its students have always believed in our mission of 'transforming the Academy,' and I have no doubt the next 20 years of the program — and its continued ripple effect — will be even more meaningful."
For Kiara Phillips and Anthony Zomalt, members of the 2023 senior cohort, participating in this program has already proved life-changing.
Phillips, an environmental science major who also serves as the president of UCLA ROOTS, an environmental outreach group, grew up in South Los Angeles with a deep interest in understanding why social and environmental disparities exist. Through the McNair Research Scholars Program, she completed a project studying lead exposure levels at South Los Angeles public schools.
"To me, being a McNair Scholar means bringing positive change through new ideas that diversify thought within your field of interest," she said. "After graduation, I plan to pursue my master's and Ph.D. in public health. I am grateful for the mentorship and resources I have received through the McNair community, and I look forward to paying my experience forward in every way possible."
Zomalt, a molecular, cell and developmental biology major who plans to study epidemiology in graduate school, is interested in examining the difference in processes needed to support life across species. He is currently working on a project to launch an app to increase genetic counseling accessibility in marginalized and underserved communities.
"This project means a lot to me because I was able to reach out to people from my own community in the Inland Empire for their perspectives and insight to make the app more resourceful and accessible," he said. "It was inspiring to see the growth of my McNair Scholar peers' projects as well, because they are all producing hugely beneficial work. I'm extremely grateful to be surrounded by a lot of smart, kind people who motivate me to be my best."
Involvement in the program does not end upon graduation, as alumni Elizabeth Gonzalez and Juan Herrera can attest.
Last year, Gonzalez was named UCLA's inaugural Hispanic-Serving Institution director in UCLA's Office of the Chancellor, bringing more than a decade of experience as a higher education equity expert to this crucial role. A Ñuu Savi (Mixtec) migrant and first-generation college graduate, Gonzalez honed her direction as a McNair Scholar, earning a bachelor's degree from UCLA as well as a master's and Ph.D. from UC Santa Cruz.
"Personally, being a McNair Scholar meant that while I was physically apart from my community, I could still be connected and give back through my research. It gave me a sense of purpose and informed my approach to my work as a higher education professional," she said. "McNair is a template, a blueprint, for the type of program and environment I want to create in my work as an equity practitioner. My positive McNair experience is the type of experience I want to reproduce with my students."
In many ways, Gonzalez considers the experience to be the most enriching aspect of her time as a UCLA undergraduate, and hopes to see its opportunities made even more accessible to the greater Bruin community.
"Because the McNair program is grant funded, it seems temporary or not as core to the campus as it should be. I also think campuses can create such opportunities for undocumented and AB540 students who are not eligible to participate in these federally funded programs," she said. "The McNair Research Scholars Program really works: it transforms lives, it makes universities and knowledge production much more powerful. McNair is the place where a generation of critical thinkers, change agents and inequity disruptors are made."
A first-generation college student himself, Herrera traces his path from part of the first-ever cohort of UCLA McNair Scholars to earning his Ph.D. at UC Berkeley to becoming a current assistant professor of geography at UCLA with deep gratitude.
"From the start, being a McNair Scholar was the first time I truly felt like I belonged at UCLA. Our fantastic inaugural director, La'Tonya 'LT' Rease Miles, galvanized an entire generation of scholars so that we truly believed in ourselves and in our potential to become academics who could change the world," he said. "We continue with this mission today, as most of my fellow McNair cohort members are now professors and making changes in their own respective departments and universities."
"Fundamentally, the McNair program taught me, as a first-generation student of color, to believe in myself and the power of being in academia. It was the kind of validation that I needed at that point in my life, and which continues to sustain me to this day," he added. "Best of all: The McNair program is the gift that keeps on giving, as each year we welcome a new cohort of scholars who then go out into the world to shake things up."
---
For more of Our Stories at the College, click here.
https://www.college.ucla.edu/wp-content/uploads/2023/03/McNairResearchScholars-363.png
237
363
Lucy Berbeo
https://www.college.ucla.edu/wp-content/uploads/2019/07/Uxd_Blk_College-e1557344896161.png
Lucy Berbeo
2023-03-09 09:50:02
2023-04-12 18:51:42
Celebrating 20 years of the UCLA McNair Research Scholars Program