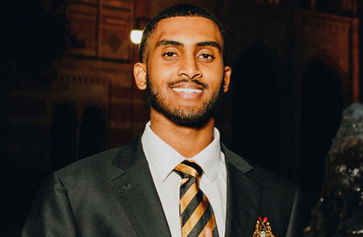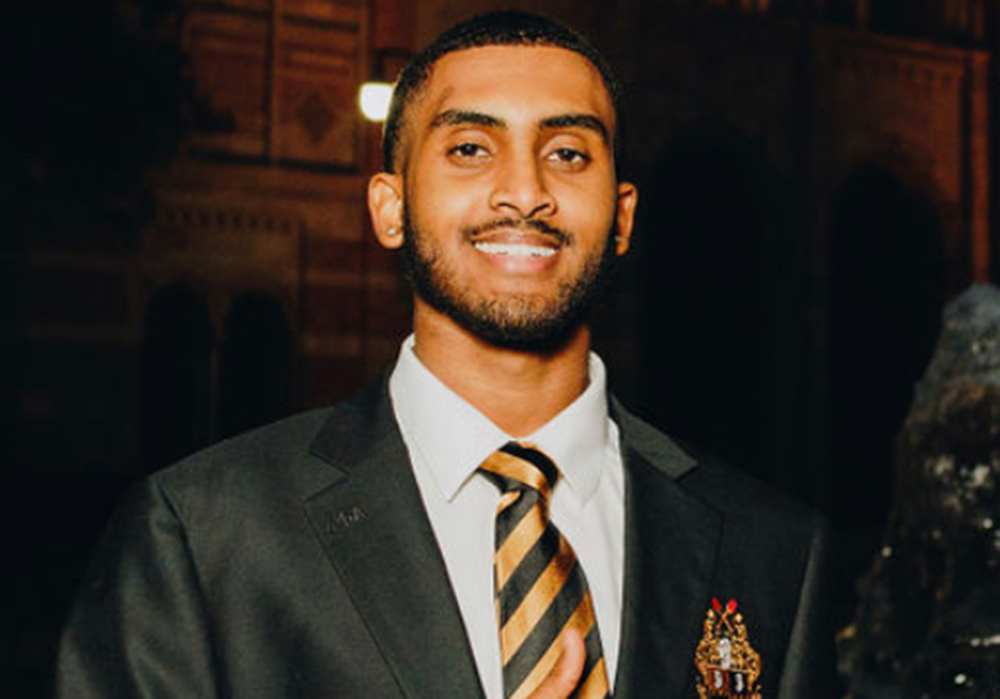 Courtesy of Senay Zedingel
Senay Zedingel, the fourth recipient of the Arthur Ashe Jr. Scholarship, is a second-year student majoring in public affairs and minoring in entrepreneurship.
---
Jonathan Riggs | March 2, 2023
Senay Zedingel was an exceptional UCLA student even before he was admitted as an undergraduate.
While in high school, he participated in UCLA's Vice Provost's Initiative for Pre-College Scholars, or VIP Scholars program, which helps prepare participants to succeed in college and beyond. Zedingel completed an upper-division UCLA education course as well as an honors seminar in the program and has made a difference as a compassionate leader who is ambitious not only for himself, but for others, too.
"I'm a first-generation American and first-generation college student alike — my parents immigrated from Eritrea, Africa, and they instilled in me the idea of going to college all my life," he said. "Yet, it has also been very important for me to support other minority high school students in developing strategies for life beyond high school, including enrolling at institutions like UCLA."
Today a second-year majoring in public affairs and minoring in entrepreneurship, Zedingel has continued to excel, becoming the fourth recipient of the Arthur Ashe Jr. Scholarship. The award supports students who exemplify the attributes, values, commitment to service and pioneering spirit of its legendary alumnus namesake, who devoted his life to social justice activism.
"It is humbling to receive this honor, especially in light of the legacy of Arthur Ashe and his impact beyond the tennis court," Zedingel said. "When I told my mother that I received this scholarship, we were both ecstatic. My goal has always been to influence people, just like he did."
Zedingel's mission informs his work as the director of diversity, equity and inclusion for the UCLA Undergraduate Students Association Council, as secretary for the Gamma Xi chapter of the Alpha Phi Alpha fraternity, and as a mentor for underrepresented high school students in the Los Angeles Unified School District. It also inspired him to help conduct a research project analyzing the stress on and health of the DNA of Black UCLA students compared to their peers of other races.
Motivated to create positive social change in the wake of tragic examples of injustice in cases such as Breonna Taylor and George Floyd's, Zedingel hopes to go to the UCLA School of Law after graduation. In the meantime, he balances his academic work — including his role as a teaching assistant for Tyrone Howard, UCLA's Pritzker Family Professor of Education — with additional community service through his church, where he serves on the production team.
"In everything I do, I want to maintain my integrity, stay diligent and help people," Zedingel said. "I especially want to show Black people that they can pursue anything they are passionate about."
---
For more of Our Stories at the College, click here.
https://www.college.ucla.edu/wp-content/uploads/2023/03/SenayZedingel363.png
237
363
Lucy Berbeo
https://www.college.ucla.edu/wp-content/uploads/2019/07/Uxd_Blk_College-e1557344896161.png
Lucy Berbeo
2023-03-02 09:04:23
2023-03-02 11:51:03
Senay Zedingel named fourth Arthur Ashe Jr. Scholar