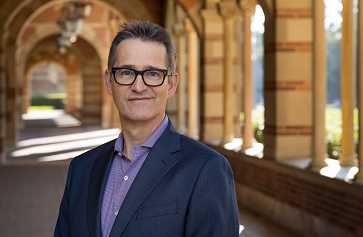 ---
Jonathan Riggs | January 23, 2023
Last November, Dominic Thomas, Madeleine L. Letessier Professor of French and Francophone Studies in the UCLA Department of European Languages and Transcultural Studies, won the Gutenberg Research Chair. As part of his prize, he will serve as lead investigator on a project, "Ecology and Propaganda."
"This honor is a testament to the remarkable timeliness, power and scope of Dominic Thomas' work," said Alexandra Minna Stern, dean of the UCLA Division of Humanities. "We are proud to have him representing our division, university and field on a global scale as he innovates new approaches to critically studying pressing environmental and ecological questions."
Awarded to exceptional internationally renowned researchers, Gutenberg Chairs serve to spark scientific studies in the Alsace region of France. They are funded by the Greater East Region of France and Eurometropolis of Strasbourg at the recommendation of the Gutenberg Circle, which includes all of the Circle's active members: the Institut de France, Collège de France, Institut Universitaire de France and an international, multidisciplinary jury of researchers.
"The Chairs were inaugurated in 2007 and have been awarded primarily to scientists," said Thomas. "It is an honor to have been selected, but the fact that the selection committee has chosen to support a humanities project is therefore especially satisfying and, I believe, also indicative of the visionary qualities of the selection committee."
With his interest in propaganda dating back to graduate school — not to mention it being the subject of both his first as well as his most recent books — Thomas will explore the paradox of how new technologies have simultaneously enhanced and undermined democratization. A transdisciplinary research project that investigates the legacies of colonialism on the environment, "Ecology and Propaganda" will be organized around five pillars (historical, intercultural, ethical, aesthetic and media/linguistic perspectives) and will correspond directly to priorities outlined by Sylvie Retailleau, the French minister for higher education.
"The transdisciplinary, transcultural scope of the project is indicative of a paradigm shift happening in the humanities," said Todd Presner, chair of the department of European languages and transcultural studies. "UCLA is an engine of innovation for new, experimental humanities fields such as the environmental humanities."
On the UCLA faculty since 2000, Thomas also created the UCLA Summer Paris Global Studies program, which he directed for 11 years, and will draw inspiration for his project from across UCLA's global research leadership on ecology and the environment — and from an unwavering commitment to his field.
"The humanities have, arguably, perhaps never been so crucially important; they are relevant to all contemporary cultural, economic, political and social debates. In the face of assaults on democratic principles, the humanities help us improve intercultural understanding and encourage inclusivity," said Thomas. "Ultimately, humanities provide the space in which to study the past, but also to delineate the contours of the future."
---
For more of Our Stories at the College, click here.
https://www.college.ucla.edu/wp-content/uploads/2023/01/Dominic-Thomas-15r-363.png
237
363
Lucy Berbeo
https://www.college.ucla.edu/wp-content/uploads/2019/07/Uxd_Blk_College-e1557344896161.png
Lucy Berbeo
2023-01-23 08:42:02
2023-02-06 15:12:28
UCLA's Dominic Thomas wins international Gutenberg Research Chair honor