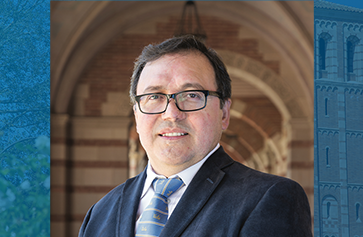 ---
By Jonathan Riggs
A UCLA chemistry and biochemistry faculty member since 1992 and dean of physical sciences since 2016, Miguel García-Garibay celebrated another milestone last November when he was named senior dean of the UCLA College.
"Taking on this additional role at the No. 1 public university in the nation is one of the greatest honors any academic leader could aspire to," said García-Garibay. "The vision of all my fellow College division deans and UCLA Executive Vice Chancellor and Provost Darnell Hunt includes sustained excellence and impact for the College. With their support, I am excited to accept the challenge."
As he looks ahead to a new year and a new chapter in his remarkable Bruin career, García-Garibay spoke with us about his past achievements and future goals.
What are your top priorities as senior dean?
The primary mission of the College is to provide the best liberal arts education and research opportunities to our remarkably diverse, talented and accomplished undergraduates. There is no doubt that UCLA's reputation comes from the exceptionally strong educational services offered by our creative faculty and our dedicated staff.
Now that our campus is committed to becoming a Hispanic-Serving Institution, one of our goals is to make UCLA even more accessible, not only to talented Hispanic students, but to talented students from all backgrounds across the state and nation. To accomplish that, the College will engage members of the community for the development and creation of endowed fellowships and resources that enhance the educational experience of our students, including bridge programs and summer research and community engagement opportunities for incoming freshmen and transfer students.
How will your longtime experience as a faculty member and dean serve you in this additional role?
Academic deans can help their departments attract creative, talented faculty who are among the very best in their fields and who bring diverse perspectives and life experiences to their scientific and educational work. One critical aspect of my job as dean of physical sciences has been to make sure that our faculty have the means and infrastructure needed to carry out their research, attract talented graduate students, and successfully deploy research and educational initiatives guided by community and societal needs. As the senior dean, I will have an opportunity to help strengthen the common goals of the College and to make sure that we are ready to support the goals of each division.
Since 1992, I have experienced an environment where faculty and students have the climate, intellectual resources and physical infrastructure to succeed. At a personal level, I have made many friends among the faculty and staff, and I have had many long-lasting interactions with former students and other College alumni. Over the last 10 years, I have had the privilege of serving in leadership roles that have given me a stronger appreciation of the impactful vision developed by our campus leaders, and how UCLA stands out among many other excellent institutions of higher education. I am proud to be a longtime faculty Bruin.
What's your favorite advice to share with students, or anyone else?
UCLA is a remarkably resourceful institution that convenes some of the brightest minds and the most interesting people. It is up to every one of us to explore it and to make the most of it. We have experts in all areas of research and scholarship, and every hallway conversation can lead to transformative ideas and productive collaborations. We have the resources to plan and execute challenging experiments, to collect and analyze complex data or to create impactful art. We have the opportunity and obligation to help create a better society. On a personal note, I also feel that it is wise to have a healthy work-life balance and family support in order to attain greater personal fulfillment and satisfaction.
Is there a fun or little-known fact about you that we could share?
Right after college and before graduate school, I worked three years as a truck driver (and I loved it!). It took that long — lots of back-and-forth snail mail — for my wife (also a Ph.D. in chemistry and a college professor) and me to earn admission to a graduate chemistry program. (We went to the University of British Columbia.) We shared parenting responsibilities as graduate students and as postdocs, demonstrating there are ways for supporting family teams to have parallel careers in higher education.
What keeps you inspired and passionate about your work and field? 
I am still amazed that chemists are able to design and construct molecules by bonding together a few atoms at a time, that we have the tools to see how those atoms are connected and how they move, and that we can change their properties by switching one or more atoms at a time. In particular, I am passionate about exploring chemical reactions in crystalline solids and to see how they may play a role in the design of crystalline molecular machines. There is nothing quite as exciting and rewarding as practicing and teaching science.
---
For more of Our Stories at the College, click here.
https://www.college.ucla.edu/wp-content/uploads/2022/11/Miguel_Garcia_Garibay_363.png
237
363
Lucy Berbeo
https://www.college.ucla.edu/wp-content/uploads/2019/07/Uxd_Blk_College-e1557344896161.png
Lucy Berbeo
2023-01-09 11:08:30
2023-01-10 13:54:17
Leading the College: A conversation with new senior dean Miguel García-Garibay