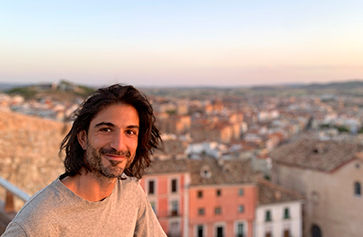 Courtesy of Isaac Gimenez
Doctoral student Isaac Gimenez finds wisdom and whimsy in the exploration, analysis and joy of art and poetry
By Jonathan Riggs
Literary translation is an art form that requires attention to detail, creativity and daring — after all, the challenges can be immense. But for doctoral student Isaac Gimenez, an adventurous artist with a bachelor's degree in translation and interpreting and applied foreign languages, it can also be a lot of fun.
"You get to know the work really closely, and you can even take a playful approach, almost like a creative writing exercise," says Gimenez, who was born in Spain. "It's a dance between reproducing the original text with capturing the spirit of it in another language. You have to have a sense of humor about it all."
After completing his undergraduate education at the University of Granada in Spain, Gimenez took various jobs in the service sector to save money and to improve his proficiency in English and French. He also worked as a freelance translator and interpreter, translating legal, technical, audiovisual and academic documents. He came to the U.S. with the goal of going to graduate school, landing a job teaching foreign language conversation at Pomona College, leading daily language labs and organizing student cultural activities. Already captivated by the arts and culture of Latin America, Gimenez was thrilled to enroll at UCLA to pursue his Ph.D. in Hispanic Languages and Literatures with a focus on Brazil.
Today, he's working on his dissertation on 20th- and 21st-century Brazilian poetry, tracing the country's changing notions of authorship back to the first Modernist phase in the 1920s. Gimenez explores how these writers created what he calls "a poetry of errors" — a playful form of artistic civil disobedience embraced by both experimental and "marginal" poets.
"I am interested in poetic expressions in general and, arguably, Brazilian literary tradition is very rich in humoristic, experimental, transdisciplinary and politically engaged approaches to poetry. A lot of people have a misconception that poems have to be dense and solemn, and, consequently, inaccessible, for many," Gimenez says. "I am fascinated by poets who embody what they write about too. It's a good lesson for all of us to engage with more poetry and live our lives poetically."
Deeply inspired by the poetry he's studying, Gimenez is also creating artistic works of his own. He created a video-poem titled "desterro/desmadre," which he presented for the first time at the 2020 conference Letras Expandidas (2020), organized by PUC-Rio (Br). This video-poem served two purposes: it complemented his analysis of Camila Assad's 2019 anthology Desterro (which inspired him to write an article published in the Portuguese literary magazine eLyra) and was also a personal reflection of what it meant to live in a global hub like Los Angeles while restricted to a smaller, screen-based scope of existence during the lockdown. "desterro/desmadre" will also be published in 2022 in Párrafo, the literary, artistic and cultural magazine of the UCLA Department of Spanish and Portuguese.
"A professor of mine, Patrícia Lino, reminded me that academic writing is, in fact, a creative practice as well," he says. "In that sense, critical readings and interpretations of literary works can be inspired by and in dialogue with other art forms and mediums."
Supplementing his academic and creative work is Gimenez's role as Editor-in-Chief of Mester, the journal of UCLA's Department of Spanish and Portuguese graduate students. (Click here for Mester's open access.) As he works on his dissertation, Gimenez is grateful for the support he earned from the Lorrine Rona Lydeen Fund since it has allowed him to devote considerable time and energy to this additional work — as well as to expanding his professional skills and nurturing new collaborations, both at UCLA (participating in two Excellence in Pedagogy and Innovative Classrooms (EPIC) seminars) and through Mester, working closely with fellow scholars from Latin America and Europe. In fact, the journal will release its 50th issue later this year.
"I think it is quite remarkable that this issue builds bridges between scholars engaging with the Hispanic and Lusophone traditions from different continents and in different languages: English, Spanish and Portuguese," says Gimenez.
It all adds up to why UCLA is such a special place for someone like Gimenez, who has traveled the globe.
"It means so much to be living in Los Angeles, a vibrant city that supports and is in continuous dialogue with artists, authors, intellectuals and cultural producers from Latin America and all over the world," he says. "And most of all, being part of the UCLA community enhances those opportunities to access resources and meet scholars and professionals who inspire our work."
For more of Our Stories at the College, click here.
https://www.college.ucla.edu/wp-content/uploads/2022/01/Gimenez_Isaac_363x237.png
237
363
Lucy Berbeo
https://www.college.ucla.edu/wp-content/uploads/2019/07/Uxd_Blk_College-e1557344896161.png
Lucy Berbeo
2022-01-10 16:47:51
2022-02-10 11:33:49
Living life like Brazilian poetry