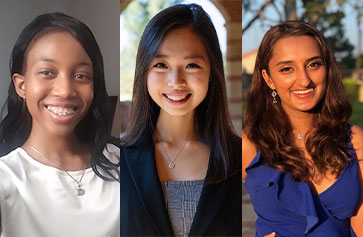 By Robin Migdol
An unpaid summer internship is practically a rite of passage for most college students. But a new scholarship awarded this year by the UCLA Center for Community Engagement enabled four undergraduates to turn their unpaid internships at nonprofits and other community-centered organizations into paid ones.
Destiny Clark, junior physiological science major and public health minor, interned with Building Blocks for Kids, which promotes financial literacy and career development in low-income high school students. For her internship, she helped with curriculum development and outreach to local organizations to recruit volunteers.
Khushi Desai, senior sociology major and labor studies minor, interned with 826 Valencia, a nonprofit that supports under-resourced students from elementary through high school with their creative and expository writing.
Maya Desai, senior public affairs major and urban and regional studies minor, interned with the City of Santa Cruz's Parks and Recreation department. She helped create a centralized database of information about all the parks, beaches and coastal access points that are run by the Santa Cruz County Parks and Planning department.
Victoria Liu, senior psychobiology major and global health minor, interned with South African epidemiologist Dr. White Ndwanya, who works with UNAIDS. Liu was part of a project to investigate how local NGOs provide holistic services to people with HIV/AIDS in South Africa, and she also helped create a COVID-19 epidemiological profile for the Western Cape province showing the progression of infection levels and the effectiveness of lockdowns. This internship was part of the UCLA Global Internship Program.
The four scholarship recipients noted how valuable their internships' hands-on experience is to their overall education and career preparation. Maya Desai said working with permits, development plans and other logistical aspects of urban planning gave her a new perspective on paperwork.
"I hadn't learned about that in any of my urban planning classes, but through this process I realized nothing gets done without it," said Desai, who seeks a future career in transportation planning. "It was definitely a reality check for me to understand this is what a large part of being an urban planner is going to be like on a day to day basis."
Clark said it's important to her to include community service in her college experience. Working with Building Blocks for Kids was especially meaningful since she went through the program as a high school student.
"I remember how challenging it was for me going through my high school education, trying to come to UCLA," Clark said, "so I want to really give tips and advice to those students just so they won't have to go through those hard times."
The scholarships were funded by a gift from Wendy Liberko and other generous donors. Liberko said her experience volunteering for nonprofits and serving on nonprofit boards makes the impact of her gift even more meaningful.
"You're not living if you're not giving. I hope this scholarship can have a lasting impact, not only with the students but with programs that they end up supporting," Liberko said. "If working for a nonprofit or community organization is someone's passion, then helping them be efficient and well-rounded makes such a difference."
"The scholarship allowed me an additional avenue to pursue a nonprofit internship," Liu said. "That sector is definitely something that I'm very interested in, especially in ways that they uplift marginalized communities and bridge a lot of the equity issues that we're seeing in our society, specifically in healthcare."
Shalom Staub, director of the Center for Community Engagement, said internships can be enormously impactful on a student's development, enriching their academic learning and affording them a real-world taste of working in a prospective field of professional interest.
"I am so grateful to our donors for supporting these scholarships," he said. "They made unpaid nonprofit internships accessible to students who might not otherwise have this opportunity at this critical moment in their education and pre-professional development."
https://www.college.ucla.edu/wp-content/uploads/2021/11/UEScholarshipIcon.jpg
237
363
Chris Ibarra
https://www.college.ucla.edu/wp-content/uploads/2019/07/Uxd_Blk_College-e1557344896161.png
Chris Ibarra
2021-11-02 12:22:58
2022-01-10 14:15:33
New scholarship supports undergraduate internships at community organizations