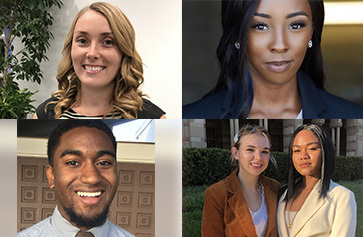 Startup companies have introduced innovative technology, unique products and even new social networks. At UCLA, four startups are also addressing some of society's most important challenges, from reaching swing voters to inspiring leadership skills in adolescent girls.
Last fall, Startup UCLA's Blackstone Launchpad and Techstars network hosted the Social Impact Fellowship Program, focused on student-run companies with clear social impact missions. Out of 40 teams selected from across the country, four originated from UCLA – a reflection of Bruins' dedication to community engagement and social change through entrepreneurship.
During the program, student fellows took part in coaching sessions with LaunchPad campus directors, received mentoring and learned about team management, digital marketing, fundraising, and more. Each fellow also received $5,000 in grant funding to advance their startup companies. Each of the four UCLA student-run companies was inspired by a variety of needs reflected in their communities.
Launchpad Social Impact Fellow Diondraya Taylor '20, founder of Mindsets & Milestones, started her company as an undergraduate psychobiology major at UCLA and is now pursuing a Ph.D. in education. Mindset & Milestones creates educational materials to develop entrepreneurial skills in middle and high school girls. So far, Taylor's company has produced a workbook, created an online course and more recently, launched an ambassador program for girls. Taylor was inspired to create Mindsets & Milestones to help tackle the confidence dips experienced by adolescent girls that can cause them to question their capabilities.
She recalled a particular conversation with a student in which they were discussing the organizational structure of the student's team. In response, the student drew a circle, not a typical top-down organizational chart, explaining that she wanted everyone to work together. After some gentle probing by Taylor, the student admitted that she wasn't sure if she was capable of leading people, despite her record demonstrating leadership potential.
"It was baffling to me. This student knew enough and had the vision, yet she couldn't see herself as a leader," Taylor said.
Launchpad Social Impact Fellow Shelby Kretz, who like Taylor is working on her Ph.D. in education, is the founder of Little Justice Leaders, a monthly subscription box aimed at elementary school children that creates opportunities for parents to talk their kids about topics such as social justice, environmental sustainability, immigration, racism and feminism. Each box contains an age-appropriate book on a single topic, a hands-on activity, lessons and worksheets, information cards and a nonprofit spotlight. Little Justice Leaders does more than serve children, it also engages parents and teachers, and facilitates learning in the community about social justice issues.
Launchpad Social Impact Fellow Shae Koberle is a third-year political science student who came up with her business idea last July, when she came across a document circulating on social media purporting to show the costs incurred by the LAPD to police demonstrations in the aftermath of the death of George Floyd. During that time, she noted that while many individuals had the best intentions in mind, no real change was being made because the information tended to circulate in the same social circles and wasn't being forwarded to the opposing side.
"To change local policy, you must engage the other side," Koberle said. "You have to engage someone who doesn't believe in defunding the police. That got me to think, 'How can I reach those people'?"
To reach people across the opinion spectrum, Koberle founded Robinswing, an app that anonymously connects swing voters to canvassers without the hassle of soliciting. The app lets users anonymously learn about and follow local propositions and candidates, no strings attached. Koberle envisions Robinswing expanding to more conservative areas, citing the benefits of its anonymous user capabilities, which allow individuals who feel they might be persecuted due to their political stance or identity to become informed without fear of being harassed.
Launchpad Social Impact Fellow Michael-Sesen Perrilliat '17 is a political science alumnus and founder of Tapped In: Equitable Development (TIED). TIED aims to create access and opportunities for people who are new to startups or need more resources to drive their startups to success. Founders connect with TIED through word of mouth or social media, and submit a form that analyzes the stage of their startup. TIED then assigns tasks to help the startup further develop their concept before connecting them with mentors and consultants who can support these entrepreneurs.
At UCLA, services like Startup UCLA and the venture consulting offered through Blackstone Launchpad allow students to develop their ideas, which increasingly include nonprofit ventures and social impact businesses. To meet the demands of UCLA's growing community of social impact-oriented creators and entrepreneurs, Startup UCLA recently hired Rachael Parker-Chavez, an entrepreneur, lecturer and consultant with extensive experience with human-centered design and building up social impact businesses and nonprofits.
To learn more, visit https://startupucla.com.
This article was written by Shirley Li. 
https://www.college.ucla.edu/wp-content/uploads/2021/03/Homepage_363x237.jpg
237
363
Evelyn Tokuyama
https://www.college.ucla.edu/wp-content/uploads/2019/07/Uxd_Blk_College-e1557344896161.png
Evelyn Tokuyama
2021-03-03 14:37:38
2021-04-29 11:58:37
From Startup to Social Change: UCLA's Blackstone Launchpad Social Impact Fellows