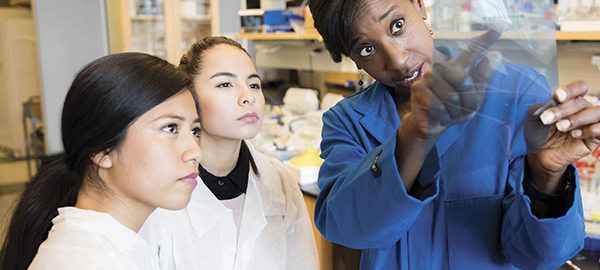 When Tracy Johnson was an undergraduate working in a lab at the University of California at San Diego, she found herself suddenly jolted. Conducting research on gene function using fruit flies, she realized she was involved in something deeper and more fulfilling than a traditional classroom experience. "The idea that I was learning things that nobody else knew, that I could make some contribution," she says now, "that was a game-changer."
Professor Johnson arrived at UCLA College's Department of Molecular, Cell and Developmental Biology in 2014, aiming to bring this same sense of purpose to others. She founded the UCLA-HHMI Pathways to Success, a program that seeks to give students from diverse backgrounds an "authentic research experience, early on, and in a prolonged way." For years, she says, students of color and those who were the first in their family to attend college pursued STEM degrees at equal rates as other students but left STEM majors at a higher rate." "I think that has less to do with preparation," she says, "and more to do with not seeing themselves as part of a scientific community. Pathways was designed to rethink that." The goal was to help students understand they belonged and had important contributions to make.
In building the program, Johnson looked around the country to find what worked best, and bring it to UCLA. She was interested not just in lab work but in mentoring as well.
Pathways students participate in a lab course dedicated to Johnson's field, gene expression. The DNA in every cell of a given plant or animal are identical. Expression is the process by which specific segments of the DNA, genes, get turned on.  This process allows cells to perform specific functions. For example this process can tell a cell to become part of a muscle, part of the bran, and so on.
It's a lot to throw first-year students into, she acknowledges. "They're freshmen, on campus for barely 10 weeks if it's winter quarter. Some have never taken AP biology. It's ambitious, but they rise to the occasion."
In fact, she's expecting to publish some of the student research in an academic journal in 2020. Pathways has now enrolled close to 100 students, and they've taken on more and more responsibility as the years have passed. Some have gone on to doctoral programs, others to medical school. "There isn't anything quite like what we do," she says. "I think it's a model for how to think about student success."
Find out more about UCLA College's innovative Pathways program.
https://www.college.ucla.edu/wp-content/uploads/2020/09/LS_Fac_JohnsonTracy.png
422
600
Evelyn Tokuyama
https://www.college.ucla.edu/wp-content/uploads/2019/07/Uxd_Blk_College-e1557344896161.png
Evelyn Tokuyama
2020-02-27 15:28:50
2021-09-17 11:25:40
Professor Seeks to Provide All Students with a Pathway to Research Success