Archive for date: November 15th, 2019
https://www.college.ucla.edu/wp-content/uploads/2019/11/083A7719.jpg
3840
5760
Kristina Hordzwick
https://www.college.ucla.edu/wp-content/uploads/2019/07/Uxd_Blk_College-e1557344896161.png
Kristina Hordzwick
2019-11-15 16:42:53
2019-11-15 16:42:53
UCLA Opens World's 1st Institute To Study Kindness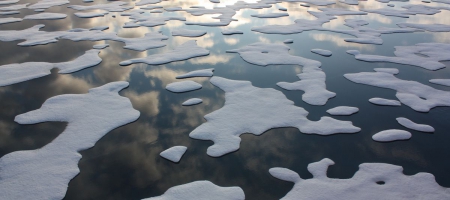 It's hard to imagine the Arctic without sea ice.
But according to a new study by UCLA climate scientists, human-caused climate change is on track to make the Arctic Ocean functionally ice-free for part of each year starting sometime between 2044 and 2067.
As long as humans have been on Earth, the planet has had a large cap of sea ice at the Arctic Circle that expands each winter and contracts each summer. The knowledge that sea ice is on the decline is not new: Satellite observations show that since 1979, the amount of sea ice in the Arctic in September — the month when there is the least sea ice, before water starts freezing again — has declined by 13 percent per decade.
Scientists have been attempting to predict the future of Arctic sea ice for several decades, relying on an array of global climate models that simulate how the climate system will react to all of the carbon dioxide entering the atmosphere. But the models' predictions have disagreed widely. Among the current generation of models, some show ice-free Septembers as early as 2026; others suggest the phenomenon will begin as late as 2132.
The UCLA study, which was published in Nature Climate Change, focuses the predictions to a 25-year period.
The study's lead author is Chad Thackeray, an assistant researcher at the UCLA Institute of the Environment and Sustainability's Center for Climate Science. He said one reason predictions about sea ice loss diverge so much is that they differ in how they consider a process called sea ice albedo feedback, which occurs when a patch of sea ice completely melts, uncovering a seawater surface that's darker and absorbs more sunlight than ice would have. That change in the surface's reflectivity of sunlight, or albedo, causes greater local warming, which in turn leads to further ice melt.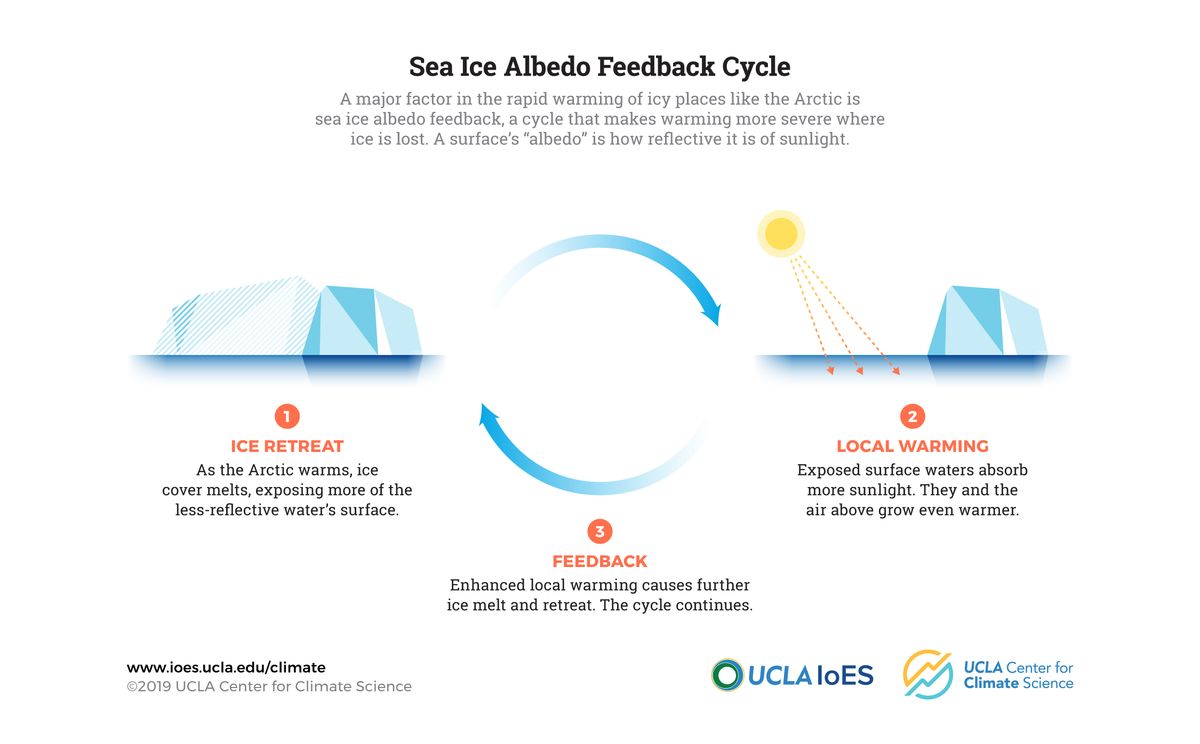 The cycle exacerbates warming — one reason the Arctic is heating up twice as fast as the rest of the globe.
For their study, Thackeray and co-author Alex Hall, a UCLA professor of atmospheric and oceanic sciences, set out to determine which models are most realistic in how they weigh the effects of sea ice albedo feedback, which they figured would lead them to the most realistic projections for sea ice loss.
Luckily — for research purposes, at least — sea ice albedo feedback not only happens over long periods of time due to climate change; it also happens every summer when sea ice melts for the season. And satellite observations over the past few decades have tracked that seasonal melt and resulting albedo feedback.
Thackeray and Hall assessed 23 models' depiction of seasonal ice melt between 1980 and 2015 and compared them with the satellite observations. They retained the six models that best captured the actual historical results and discarded the ones that had proven to be off base, enabling them to narrow the range of predictions for ice-free Septembers in the Arctic.
The approach of using an observable process in the current climate to evaluate global climate model projections of future climate was pioneered by Hall and his group in 2006, in a study focused on snow albedo feedback. (As the name implies, snow albedo feedback is similar to sea ice albedo feedback but involves snow loss uncovering a darker land surface.) It has since become widely used in climate science as researchers try to improve the precision of their projections.
The fate of Arctic sea ice is a key topic for climate scientists because of its role in temperatures around the rest of the world.
"Arctic sea ice is a key component of the earth system because of its highly reflective nature, which keeps the global climate relatively cool," Thackeray said.
There are other environmental and economic implications to ice loss as well. Sea ice is critical to the Arctic ecosystem, and to the fishing industry and indigenous peoples who depend on that ecosystem. And as Arctic ice is lost, more waters are used for commercial shipping and oil and gas exploration, which presents economic opportunity for some nations, but which also contributes to further greenhouse gas emissions and climate change.
"The changes to come will have broad environmental, ecological and economic implications," Thackeray said. "By reducing the uncertainty in when we'll see those changes, we can be better prepared."
The research is line with the goals of UCLA's Sustainable LA Grand Challenge, an initiative that aims to transition Los Angeles County to 100 percent renewable energy, 100 percent locally sourced water and enhanced ecosystem health by 2050.
This article originally appeared in the UCLA Newsroom.
https://www.college.ucla.edu/wp-content/uploads/2019/11/ArcticseaiceNASAphoto_f7c4741f-1004-4dd5-bb90-e6dbf35b12ec-prv.jpg
800
1200
Chris Ibarra
https://www.college.ucla.edu/wp-content/uploads/2019/07/Uxd_Blk_College-e1557344896161.png
Chris Ibarra
2019-11-15 15:13:29
2019-11-15 16:41:11
Arctic Ocean could be ice-free for part of the year as soon as 2044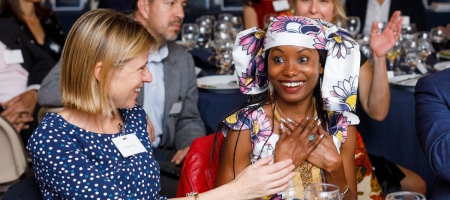 The UCLA Institute of the Environment and Sustainability presented the 2019 Pritzker Emerging Environmental Genius Award to Hindou Oumarou Ibrahim, a member of Chad's Mbororo indigenous semi-nomadic community.
Ibrahim promotes environmental protections for indigenous groups through work with international organizations, including as a member of the United Nations Indigenous Peoples Partnership's policy board. She also leads a community-based environmental coalition in the region surrounding Lake Chad, a critical water source that has shrunk 90% since 1980 — in part because temperatures in the area rose 1.5 degrees Celsius over the past century. Violent conflict has occasionally broken out among groups competing for the vital resource.
The annual award carries a prize of $100,000, which is funded through a portion of a $20 million gift to UCLA from the Anthony and Jeanne Pritzker Family Foundation. It is the field's first major honor specifically for innovators under the age of 40 — those whose work stands to benefit most from the prize money and the prestige it conveys.
Ibrahim said the award, which was presented Nov. 7 at UCLA's Hershey Hall, will help amplify the voices of 370 million indigenous people around the world.
"The voices of indigenous people are being heard here — through me, through all of you and through this prize," Ibrahim said. "We are all together. We will win this battle, I am so confident."
University researchers, Pentagon experts and others have found that rapid climate change — driven largely by human-caused carbon emissions — have contributed to a growing number of armed conflicts. The phenomenon is expected to particularly affect regions that are already unstable.
To prevent and reduce conflict in the Lake Chad basin, Ibrahim developed a program that gathers information on natural resources from farmers, fisherman and herders in more than a dozen African ethnic groups, and then produces 3D maps of those natural resources that their communities can share. The effort is intended to reduce the chance for conflict among the groups.
"It's amazing to see women and men who have never been to school working jointly to build 3D maps that share critical knowledge, like where fresh water can be found even in the worst days of a drought," Ibrahim wrote in her award application. "But the most interesting aspect of this project is that it helps to reduce conflict and tension between communities."
Hindou is an official adviser to the UN Secretary General in advance of a major climate summit taking place in Glasgow in September 2020. She also advocates for indigenous peoples' rights, women's rights and environmental justice in high-profile global forums, including as a National Geographic Explorer and a senior indigenous fellow for Conservation International.
The Pritzker Award is open to anyone working to solve environmental challenges through any lens — from science to advocacy and entrepreneurism. But all three finalists for this year's award were activists, which may reflect the global trend of young people taking a more vigorous role in fighting against climate change. In addition to Ibrahim, the finalists were May Boeve, executive director of 350.org, and Varshini Prakash, founder of the Sunrise Movement. Finalists were selected by a panel of UCLA faculty from 20 candidates who were nominated by an international group of environmental leaders.
Ibrahim was chosen as winner by five distinguished judges: Shawn Escoffery, executive director of the Roy and Patricia Disney Foundation; sustainability and marketing expert Geof Rochester; philanthropists Wendy Schmidt and Nicolas Berggruen; and Kathryn Sullivan, former head of the National Oceanic and Atmospheric Administration and the first American woman to walk in space.
Peter Kareiva, director of UCLA Institute of the Environment and Sustainability, said the Pritzker Award's biggest value is that it brings together a community of candidates, past winners, UCLA faculty and the environmental leaders who serve as judges and nominators.
"We're way beyond the time where a single innovation is going to do it, a single policy is going to do it. We're way beyond that," Kareiva said.
After receiving the award from Tony Pritzker, Ibrahim echoed that sentiment and called the other finalists up to the podium.
"We need action, and this action can only happen if we all join hands," Ibrahim said. "We will make it all together."
This article originally appeared in the UCLA Newsroom.
https://www.college.ucla.edu/wp-content/uploads/2019/11/HindouOumarouIbrahimreactstoaward_dfe43cc6-27fa-4582-bd92-5d60d9af270d-prv.jpg
800
1200
Chris Ibarra
https://www.college.ucla.edu/wp-content/uploads/2019/07/Uxd_Blk_College-e1557344896161.png
Chris Ibarra
2019-11-15 15:04:30
2019-11-15 15:04:30
Activist Hindou Oumarou Ibrahim wins Pritzker Award for young environmental innovators