Chancellor Gene Block offered encouragement to UCLA's newest entrepreneurs during his visit to Startup UCLA's Summer Accelerator in early August. Startup UCLA's annual Summer Accelerator provides a workspace, guidance, legal services and mentors to early-stage companies. The 10-week program connects teams of UCLA students or recent graduates with top entrepreneurs, investors and tech experts. At the end of the summer, teams pitch their companies to Startup UCLA's network of local entrepreneurs and investors.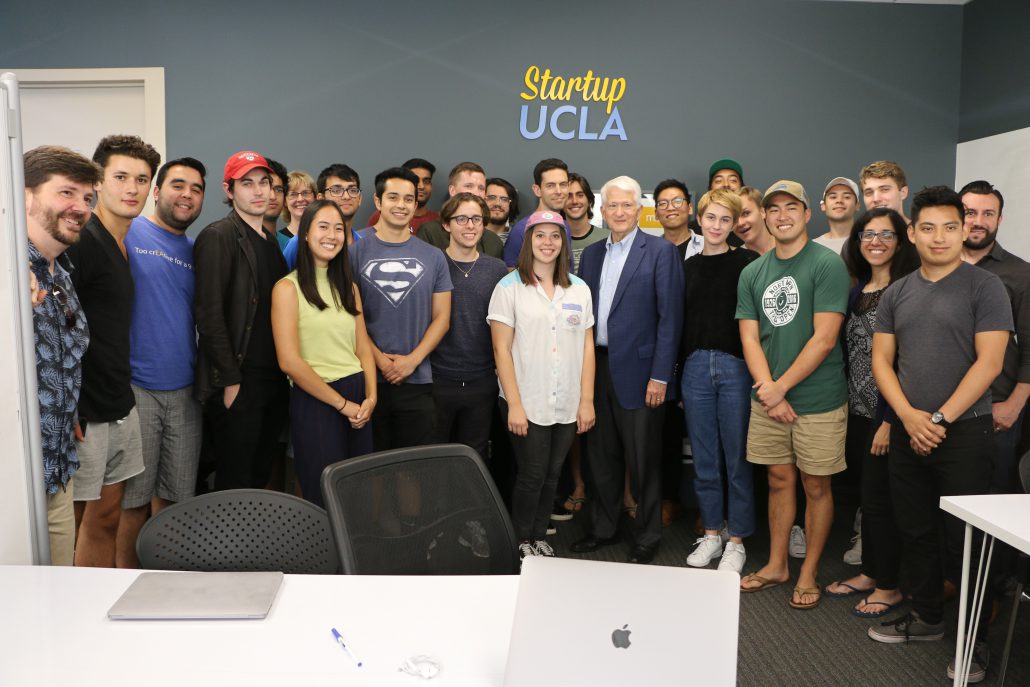 During his visit to the Startup UCLA co-working space in Covel Commons, Block met briefly with Executive Director of Entrepreneurial Programs Deanna Evans and Director of Startup UCLA's Summer Accelerator Robert Jadon before visiting with each team at their work stations, hearing about their projects and asking questions.
Several participants showed Chancellor Block their product prototypes on their smartphones and laptops, while others explained what inspired them to start their company and how they came together as teammates.
"Having Chancellor Block take time from his schedule to learn about the innovative ideas of Startup UCLA's 2018 Summer Accelerator teams meant a great deal to our program," Evans said. "The teams were excited to share their products and early stage progress with UCLA's chief executive officer."
While meeting with Magnus Care, a team that is developing a video check-in service for seniors, Block commented that research on circadian rhythms, an area he specializes in, has found that older people benefit from sticking to a routine. Magnus Care's service enabling care providers or family members to check in remotely throughout the day could be beneficial, he said.
"It was helpful to hear the Chancellor address the importance of our core mission, which is helping seniors stick to a daily routine," said Jai Kyeong Kim '17. "He gave us some scientific examples and addressed the growing market and opportunities."
Kim's teammate Bryan McDermott '16, who quit his banking job to work full-time on the start-up, added that having the support of the Chancellor of his alma mater is especially meaningful.
"When there's support from UCLA, it really validates my decision and what we're trying to do here," McDermott said.
Block also asked detailed questions about a high protein pancake mix for athletes, which Marcel Salapa '18 is developing through the e-commerce brand Phoros Nutrition. Salapa explained that he's gotten positive feedback from customers who like the taste and consistency of the product.
Salapa said he appreciated the Chancellor taking time to visit Startup UCLA and acknowledge the work being done at the Summer Accelerator.
"Having the [Startup UCLA] space and all these awesome people around, and having the Chancellor come by and recognize that, I think is really awesome," Salapa said.
Kim Seltzer '17 and Sachin Medhekar '15, who are building an app for discovering self-guided adventures called Disco – Discover Local, said they were excited to meet the Chancellor. From the questions he asked and his interest in their project, Seltzer and Medhekar felt he was engaged in their conversation.
"It's cool already that UCLA provides us this space, but that the head of UCLA came to talk to us was a great feeling," Medhekar said.
https://www.college.ucla.edu/wp-content/uploads/2018/08/nickpfister17.jpg
3648
5472
Robin Migdol
https://www.college.ucla.edu/wp-content/uploads/2019/07/Uxd_Blk_College-e1557344896161.png
Robin Migdol
2018-08-14 10:52:21
2018-08-14 14:01:45
Startup UCLA Accelerator teams meet Chancellor Block