Eleven new endowed faculty chairs established in less than two years.
A groundswell of philanthropic support has resulted in 11 new endowed faculty chairs in the UCLA College since the public launch of the Centennial Campaign in May 2014. This bumper crop of endowed chairs has strengthened efforts to attract and retain game-changing, groundbreaking faculty.
Ever since UCLA's first endowed chair was created in 1928 by Mr. and Mrs. C. N. Flint, private donors have generously supported the research and teaching of distinguished faculty in the College. Highly coveted in the academic world, endowed chairs recognize exceptional faculty members for their past and potential scholarly contributions while also providing dedicated funds for the chair holder's research. At a public research university like UCLA, they are a particularly important recruiting tool.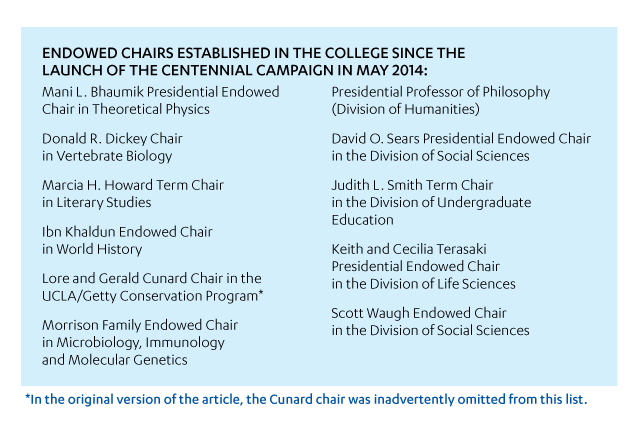 UCLA Chancellor Gene Block said, "Today more than ever, endowed chairs are vital to UCLA's continued research and teaching excellence. This form of philanthropic support levels the playing field and allows us to compete with other top-tier universities in hiring the best faculty."
Noting the ripple effect of endowed chairs, senior dean of the UCLA College Joseph Rudnick said, "World-class faculty members attract the most talented graduate and undergraduate students, who in turn go on to make their own imprint on the world."
Matching funds from the University of California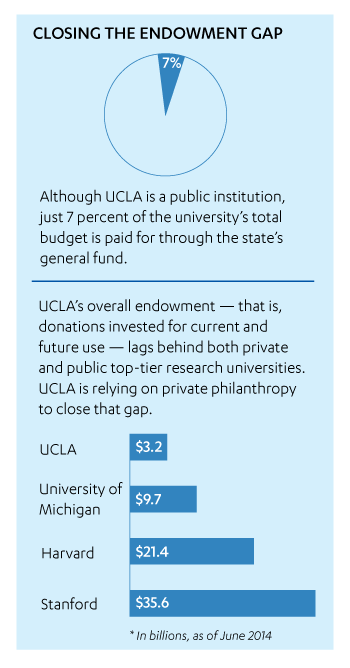 A big boost to endowed chairs in the College came in July 2014 when University of California President Janet Napolitano announced the Presidential Match for Endowed Chairs, designed to spur private giving to UC. Several donors stepped up to meet the match, resulting in four new presidential endowed chairs in the divisions of Humanities, Life Sciences, Physical Sciences and Social Sciences.
The recent additions to the College's list of 93 endowed chairs span areas as diverse as theoretical physics, literary studies, vertebrate biology and world history, and include a chair devoted to innovative teaching in the Division of Undergraduate Education.
Donors who established endowed chairs were motivated by the desire to leave a lasting, impactful legacy and ensure the future excellence of one of the world's great public universities.
Distinguished Professor of Psychology and Political Science David Sears, who established the David O. Sears Presidential Endowed Chair in the Division of Social Sciences, said, "I know that competing with private universities for the best faculty is a challenge. I feel it is necessary for those of us who value public higher education to step up if we can."
Mani Bhaumik, a physicist, author and entrepreneur who established the Mani L. Bhaumik Presidential Endowed Chair in Theoretical Physics, said, "As a scientist, I realize the importance of supporting faculty who do basic research, especially theoretical physics that is at the foundation of all sciences."
Rudnick expressed gratitude for the generosity and foresight of those who have established endowed chairs.
"They understand that endowed chairs are an investment not only in the intellectual fabric of UCLA but in future generations and future discoveries."
For more information about how you can support faculty in the College, please contact Megan Kissinger at (310) 206-0667 or mkissinger@support.ucla.edu.
https://www.college.ucla.edu/wp-content/uploads/2016/01/janet-naplitano-speaking.jpg
3456
5184
Kristina Hordzwick
https://www.college.ucla.edu/wp-content/uploads/2019/07/Uxd_Blk_College-e1557344896161.png
Kristina Hordzwick
2016-01-07 11:53:06
2016-01-07 11:54:07
Propelling the Groundbreakers and the Game Changers