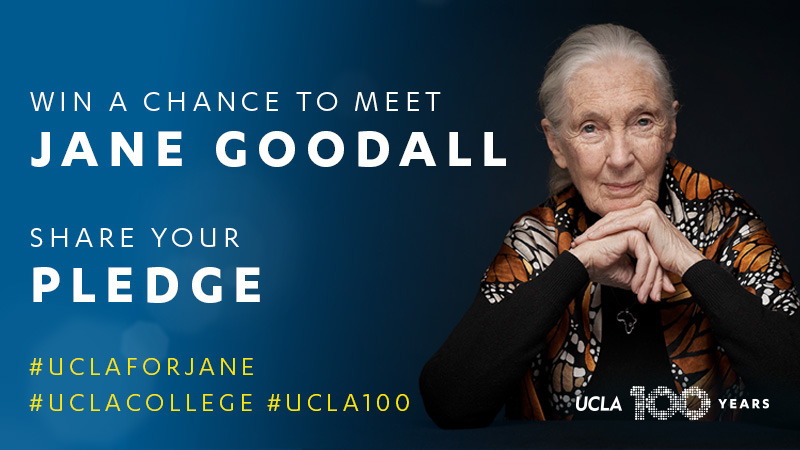 "My job now is to try and help people understand every one of us makes a difference. And cumulatively, wise choices in how we act each day can begin to change the world."
– Dr. Jane Goodall in an interview with The Washington Post
Win the incredible opportunity to join a small group meet-and-greet with Jane Goodall by doing something positive for the future of our planet! Submit your video answering the question "When it comes to the conservation of our planet, what is your action or pledge?"
Submit a video of yourself taking a pledge or demonstrating your pledge. Examples include:
Commute to work every day this year
Reduce use of single-use plastics
Volunteer or organize a clean-up event
Plant trees
Be conscious of water usage
Start composting your food
Please come up with your own original pledge or action, and be creative! UCLA students only.
A small group of entrants will have their videos included in a compiled video shared with Jane Goodall, and one lucky winner will be chosen by the UCLA College to join the meet-and-greet! The winner will also receive a ticket to the event.*
Contest Guidelines:
The video entry must answer the question, "When it comes to the conservation of our planet, what is your action or pledge?" Submissions can be a pledge or show an action.
Videos can be submitted by emailing collegecomm@support.ucla.edu or by sharing your video on Instagram or Twitter.
Entries submitted via Instagram or Twitter must be public and must include the hashtags #UCLACollege #ForJane #UCLA100
Video entries must be no longer than 1 minute 30 seconds and preferably horizontally framed.
Videos do not need to be professionally produced, smartphone videos will absolutely be accepted.
Your face and voice must be clear and easy to understand.
Be creative!
Keep it clean.
Important Dates: Entries will be accepted online beginning Thursday, February 12, 2020 and ending Monday, March 16, 2020 at 11:59 p.m. The winning video will be announced March 30, 2020.
One lucky finalist chosen by UCLA College will be invited to a small group meet-and-greet with Dr. Goodall.

*

Students who already have a ticket to the Luskin Lecture for Thought Leadership with Jane Goodall will forfeit their original ticket should they be chosen as the winner to join the meet-and-greet.
The Fine Print
Only full-time, regularly enrolled UCLA students will be eligible to win, with preference given to undergraduate students with majors in the College. Each student is limited to one entry.
Finalists will be chosen by UCLA College and asked to submit their videos in a digital format. After submissions are posted, keep an eye on your social media accounts for a response!
Maximum of one entry per person.
Submissions will be screened by UCLA College Communications for merit and feasibility.
By participating in this contest, entrants grant permission for UCLA College to use videos, including but not limited to the UCLA College website, social media accounts, and marketing materials.
UCLA College Communications reserves the right to make changes or edits.
Selected videos, including the winning entry, will be edited and compiled into one video to share with Dr. Goodall.
Students do not need to have secured a ticket to the Luskin Lecture for Thought Leadership to enter.
The winner will be announced by March 30 and will be invited to a small group meet-and-greet with Dr. Goodall.
UCLA College reserves the right to refuse entry to any student who does not conform to a respectful code of conduct at the event.
For questions regarding the contest, please contact collegecomm@support.ucla.edu.