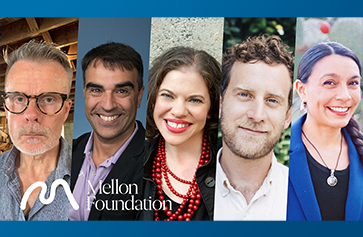 ---
By Munia Bhaumik
The following UCLA faculty members are the inaugural recipients of "Data, Justice and Society" course development grants from The Andrew W. Mellon Foundation:
This remarkable cohort of innovative UCLA faculty proposed to develop courses across the humanities, social sciences and life sciences to enhance teaching at the intersection of data, justice and society and to augment curricular offerings engaged with data ethics and justice, community-engaged teaching and digital humanities. These courses will be offered either this academic year or next.
The courses enrich our understanding of how data technologies are increasingly a part of our everyday lives. When you buy something on Amazon, friend someone on Facebook or search on Google, data is being gathered about your choices. These courses mobilize the space of the classroom at the nation's top public university to invite conversation and thought about social consequences and the need for justice in our data-saturated world.
Thanks to the generous contribution of the Mellon Foundation, these grants are increasing the number of course offerings across the UCLA campus for both graduate and undergraduate students to learn from professors who are working at the intersection of multiple fields. Many of the new courses will also allow students to engage with and learn from community organizations across Southern California.
The faculty grant recipients are not only world-renowned scholars in their respective fields, but also committed instructors eager to engage students around issues of academic and social relevance. They were selected by the Mellon Social Justice Curricular Initiatives steering committee, comprised of Todd Presner, professor and chair of the department of European languages and transcultural studies; Shalom Staub, director of the Center for Community Engagement; Juliet Williams, professor and chair of the social science interdepartmental program; and Munia Bhaumik, program director of Mellon Social Justice Curricular Initiatives.
---

Course Descriptions
David MacFadyen
"Freedom of Speech in Russia: Decentralized Tools for Musicians and Journalists"
Goal: To create a blockchain-based and anonymized publishing platform, using NFTs to protect the rights of both journalists and musicians, currently under significant pressure from state censorship during the war with Ukraine.
Davide Panagia
"#datapolitik: or, the Political Theory of Data"
This course looks to the changing nature of political thinking and judgment given the emergence of data and algorithms as the principal media in contemporary democratic life. The course introduces students to developments of new forms of critical thinking for the study of data and society by interrogating familiar concepts in the history of political thought (freedom, justice, equality, race, ethnicity, gender) in relationship to new and emerging media, and the expectations and claims these media place on users. The learning objective of the course is to study political ideas in relationship to, and embedded with, the specific medium of data.
Miriam Posner
"Data from the Margins"
Data has a long tradition as a weapon of discrimination — but oppressed communities have an equally long tradition of reconceiving, reworking and remaking data in order to fight back. We'll consult with and hear from activists and scholars who are making change for their communities as they challenge everyone to rethink what data can do.
Nick Shapiro
"Science, Mass Incarceration and Accountability"
The course will be split into two complementary halves. First, an introduction to the extractive data practices of science that have both advanced and profited off of mass incarceration. This half of the course will facilitate the subject matter expertise needed to understand the context and critiques that the work of the second half of the course is attempting to overcome or counteract. The topics of the first half will include a general introduction to mass incarceration and what data can and can't tell us about this archipelago of nearly 7,000 carceral facilities as well as the unethical scientific knowledge extraction from incarcerated people.
Veronica Terriquez
"Community-Engaged Research Methods:  Surveying Racially Diverse Youth and Workers"
This course will train students in designing, drafting, piloting, and administering a new survey focused on transitions to adulthood. Written in collaboration with community partners, this survey will gather data on the workforce development, labor rights, education, health, mental health, and civic engagement of young people residing in BIPOC communities disproportionately impacted by the COVID-19 pandemic. The course will expose students to the historical development of racial statistics, the role of racial statistics in contemporary life, and critical quantitative science. It will also include testing questions on racial identity and attitudes; gender identity; workforce development; labor rights; healing and wellness; and other topics determined by community partners serving Latinx, AAPI, Black, and Indigenous youth. Additionally, students will learn about the strengths and weaknesses of different survey sampling methodologies aimed at gathering data from BIPOC youth, low-wage workers, and students.
https://www.college.ucla.edu/wp-content/uploads/2022/10/Mellon-header-363.png
237
363
Lucy Berbeo
https://www.college.ucla.edu/wp-content/uploads/2019/07/Uxd_Blk_College-e1557344896161.png
Lucy Berbeo
2022-10-31 14:19:49
2023-01-07 15:35:37
Inaugural faculty recipients of Mellon Foundation "Data, Justice and Society" grants