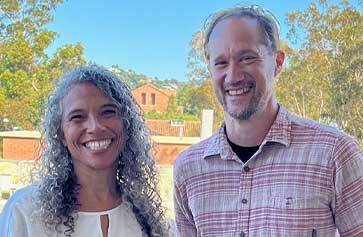 Life scientists from different fields inspired each other and pushed science forward
By Jonathan Riggs
It can be easy for even the best ideas to get lost in a busy professor's email inbox — the amount of correspondence, requests and paperwork that continually vie for attention is staggering.
But when Gina Poe, a UCLA professor of integrative biology and physiology who has conducted sleep research for more than 30 years, noticed a message in her inbox from Van Savage, a UCLA professor of ecology and evolutionary biology and of computational medicine, it immediately caught her eye.
"Van contacted me about a paper he was co-authoring, specifically about some feedback from the peer review process," she says. "One of the reviewers had responded that there was no REM sleep except in human adults—I wrote Van back immediately and said, 'That's crazy.'"
"It was terrific talking to Gina, not just because she knows way, way more about sleep than the rest of us, but because she was so open-minded about her expertise and willing to explore our theories," Savage says. "It was a huge turning point to get someone like her aboard."
That conversation — and their subsequent research — led to them developing the most comprehensive, mechanistic and mathematical analysis of sleep to date, showing that mammals (including humans) depend on REM sleep to build their brain's infrastructure in infanthood, and to heal and "declutter" it throughout life.
As exciting as their findings were, Poe and Savage found it even more inspiring to work together across interdisciplinary lines, an opportunity they wish more of their colleagues could experience.
"It really teaches you that you can be a global expert in your field, but you can't be an expert in everything — there is so much we all can learn from one another," Savage says. "You have to be patient and brave as you basically learn a new language from your collaborator and teach them one, too. Building that groundwork alone teaches you so much about your own work before you ever get to the real questions."
"It's also wonderful fuel to keep you curious and passionate, which is how you become distinguished in your field in the first place," says Poe. "I love to learn new things every day, and projects like this are an incredible way to keep yourself refreshed, engaged and excited to go to tackle challenge questions every day."
The two are continuing their research collaboration, expanding on their previous project by focusing on the effect of temperature on sleep. The effect of temperature isn't very pronounced on warm-blooded creatures like mammals and birds, but it's hugely impactful on cold-blooded animals, like amphibians, reptiles, fish and insects — so Savage and Poe's theory is that temperature affects the latter group's sleep.
"Fortunately, in the past few years, people have been studying the sleep of more diverse organisms. One of these getting a lot of attention is fruit flies," Savage says. "And we do see a pattern where more sleep is needed at higher temperatures. So now we're trying to mathematically look at and quantify that, and what modifications we need in order to ask more and bigger questions."
According to Poe, UCLA is perhaps the most qualified place possible to foster these breakthroughs.
"UCLA has been a world leader in sleep research for 50 years, for as long as the field has existed. Whenever I see a picture of our team in 1988, I laugh because that was basically everyone on earth doing sleep research at the time," Poe says. "It means a lot that today, we are actively still pushing the envelope for the field, so much so that we can now theorize so knowledgeably about sleep across almost all animals."
Both Savage and Poe remain incredibly ambitious, thinking ahead in terms of not just one step, but dozens…or more.
"Gina's and my expertise and skills have been so complementary that our work has been strengthened more than we could have hoped. Our collaboration has been a huge boon both to science and to us personally," says Savage. "And there's so much more we can do. What we want to tackle could take us to the ends of careers and beyond — and that's how we like it."
For more of Our Stories at the College, click here.
https://www.college.ucla.edu/wp-content/uploads/2021/12/PS-3HP_363x237.jpg
237
363
Lucy Berbeo
https://www.college.ucla.edu/wp-content/uploads/2019/07/Uxd_Blk_College-e1557344896161.png
Lucy Berbeo
2021-12-13 14:33:48
2021-12-13 17:33:42
The power of two: collaboration empowered groundbreaking sleep research