Anita I. Ortega '82
From the age of 11, Anita Ortega set her sights on UCLA as her ticket out of poverty in South Los Angeles.
Once on campus, the first-generation college student made the UCLA women's basketball team as a walk on-and was selected as an All American (honorable mention) after helping to lead the team to its first national championship. After playing professionally in the first Women's Pro Basketball League, she completed her B.A. in psychology at UCLA in 1982. She served as an assistant women's basketball coach at UCLA for two years, then joined the Los Angeles Police Department. There she rose through the ranks, advancing to captain in 2002. She became the first African-American female commanding officer in LAPD history. She has remained connected to basketball by serving as an NCAA Division I women's basketball official.
She has earned widespread recognition for her pioneering accomplishments on and off the basketball court, including induction into the Hall of Fame of both UCLA and LAPD; being named a "Woman of Excellence" by the National Latina Business Woman Association; and receiving the Roman of Excellence Award from her alma mater, Los Angeles High School, the Public Service Award from the UCLA Alumni Association, and the Director's Award from the Hollenbeck Youth Center. In 2011, she was honored as the UCLA Latina Alumna of the Year, and in 2012, she was selected by the California State Assembly as the Woman of the Year for the 46th district. She retired from LAPD in July 2016.
How is the Distinguished Alumni Speaker selected?
A committee, comprised of representatives from the College Faculty Executive Committee – including professors and students, reviews a list of notable alumni and provides the College with several recommendations. Speakers are then invited and scheduled according to their availability.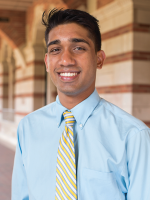 Sujith Cherukumilli
2:00 p.m. ceremony
Sujith hails from Atlanta, Georgia, and is a Political Science major with a minor in Public Affairs. On campus, he took full advantage of the various opportunities UCLA offers to become involved and was active in student government, the Pediatric AIDS Coalition, the Orientation program and Greek life. His inspiration for public service stems from his childhood, where he had multiple influences who pushed him to work harder and give back to those around him. It is this mindset that inspires him to pursue a career in advocacy and politics. He will soon join Teach for America as a Middle School English Teacher in Las Vegas. He eventually plans to pursue a Master's degree in Public Policy and ultimately a career in politics to effect systemic change in some of the biggest issues facing the country today, including educational inequity.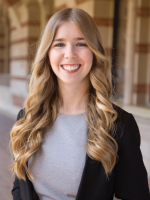 Bridgette Walling
7:00 p.m. ceremony
Bridgette Walling, a Psychology major, grew up in San Jacinto, CA. Bridgette, a proud first generation college student, faced many adversities growing up. Bridgette wanted the honor of speaking to her fellow graduates to share that true bruins come from all different backgrounds, with different abilities and to show there is a place for us all. Bridgette spent a quarter interning in Washington, D.C. for a national non-for-profit, SurvJustice, where she advocated for victims rights through legislation and policy reform. For five years, Bridgette worked with survivors of sexual assault on campus through UCLA's Bruin Consent Coalition. Bridgette had the pleasure of working for the Vice Chancellor's office of Equity, Diversity and Inclusion as a Community Solidarity Coordinator with The Bruin Excellent & Transformation Grant Program (BEST) to foster social justice leadership on campus. Bridgette plans on attending law school where she will continue advocating and fighting for victims' rights.
Sheela Sood
When asked why she wanted to sing the national anthem today, Sheela answered that she loves to sing and she wanted to celebrate commencement by "doing what I love for the people I love!" A transfer student from Thousand Oaks, it was her dream to study Biology at UCLA. Now that she has achieved that dream, she has set her sights on becoming a Biology professor.
Marco Paulo Aquinde & Tenya Mai Thurston
Marco and Mai both hail from San Diego. These singers performed together at UCLA with the group, Resonance A Cappella. In addition, Marco studies Microbiology, Immunology, and Molecular Genetics. He plans to follow his passion for healthcare into a physician's assistant program. Mai majored in Psychology. In the fall, she will study abroad at Yonsei University in Seoul, South Korea, and then she plans to apply to graduate programs in marriage and family therapy.
Elena Georgieva, Emilio Huerta, Marianna Nam
Elena, Emilio, and Marianna are graduating members of UCLA's community service a cappella group YOUTHphonics. All three of us are from northern California. Elena majored in Cognitive Science and she will attend a Master's program at Stanford in the fall. Emilio earned his B.S. in Biology. Next, he will works as a medical assistant. Marianna graduated in winter with a degree in Communication Studies. She currently works as a talent associated at Bright Star Schools.